Ohio State University School of Communication Ranks Nationally and Globally
For the past three years, the School of Communication has received top rankings for its research quality, productivity and impact. Since 2017, the School has been ranked No. 1 in the United States and ranked among the top five communication schools globally.
The most recent 2019 report ranks the School No. 1 nationally and No. 2 globally, according to ShanghaiRanking. 
Award-Winning Research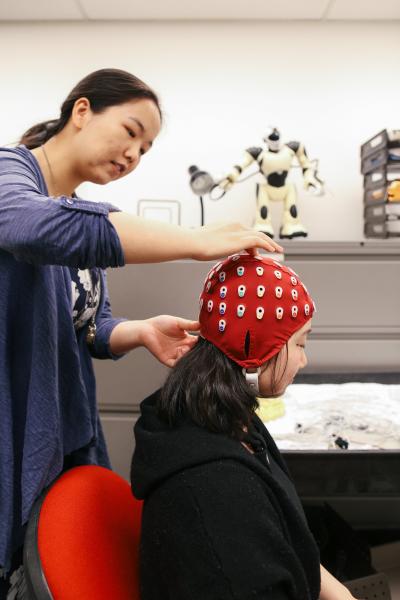 Faculty in the School of Communication offer expertise in one or more specializations. Areas of research include communication technology and society, health communication and social influence, mass communication uses and effects, and political communication and public opinion.
Brad J. Bushman, professor of communication, studies the causes, consequences and solutions of human aggression and mass violence. One of Bushman's recent studies found that violent video games are not the cause of mass shootings; other factors contribute such as the easy access of weapons in the U.S.
In 2017, Bushman received the Kurt Lewin Award from the American Psychological Association for his outstanding contributions to the development and integration of psychological research and social action.
Beginning January 2020, associate professors Olga Kamenchuk and Erik Nisbet will conduct research funded by a $300,000 research grant from the U.S. State Department awarded to the Center for Slavic and Eastern European Studies.
Their work will focus on attitudes surrounding foreign policy and international disinformation in Serbia. Kamenchuk and Nisbet will be working closely with faculty members from the University of Belgrade.
In addition, many other School of Communication faculty received awards and recognitions over the last year, including:
Faculty Published, Cited in the Media
Faculty research from Ohio State's School of Communication was cited more than 13,000 times between 2016 and 2018, according to the Web of Science (SSCI) criteria from ShanghaiRanking. 
This means that other researchers from around the world drew upon findings from School of Communication faculty 13,000 times in their own works. 
During the same period, faculty from the School published 264 peer-reviewed journal articles. In these articles, faculty published research findings or theoretical work. 
Forty-three of those articles appeared in flagship journals, which are among the top research journals in communication. Articles also appear in other social sciences such as the American Journal of Political Science and Public Health.
Bushman currently has published more than 200 articles that have been cited more than 40,000 times in total. He is also recognized as one of the top communication scholars cited by Google Scholar. He is also featured in top scientific journals such as Science, PNAS and JAMA and in media outelts such as BBC, NPR and The New York Times.
Other faculty published or cited in major media outlets include:
Graduate and PhD Programs Offer Research Opportunities for Students
Faculty are not the only ones conducting research. Students from the School of Communication's PhD and graduate programs are actively doing research. Both the master's and the PhD program train students to advance their knowledge in the communication field.  
Kate Luong, a PhD candidate at The Ohio State University, currently focuses her research on environmental communication, women in science and anti-vaccination.
"The School of Communication offers fantastic lab facilities and resources for research," Luong said. "Faculty are generous with time and helping with research projects." 
Students are given the opportunity to work closely with faculty members.
"We have really prestigious productive scholars that are doing research I want to do," Luong said. "We also have a supportive graduate student body that is willing to help with anything." 
Through a combination of training and mentoring, students are prepared to enter careers in academia, business or industry and use their skills in marketing, polling, media or analysis.
The Impact of Research
Research is more than just putting together a study. It can have an effect both within and outside academia.
As a social science department that utilizes scientific techniques, the School of Communication is a community of activity, said Michael Slater, director of the School of Communication at Ohio State. 
Research conducted by a single researcher, no matter how influential, is one piece of a larger picture. 
"It is not so much the work you do, but it is the work that you stimulate others to do," said Slater.  
For example, Slater developed a project to reduce marijuana intake among high school students.
"The federal government was running their own campaign that was not going very well," Slater said.
Research Slater and his colleagues conducted helped influence the federal government to switch to a new campaign called 'Above the Influence,' which had a more substantial impact on teens and marijuana usage.
"That was really satisfying having a positive impact on people's lives," Slater said.
Article written by student Mark Leskovec.
---