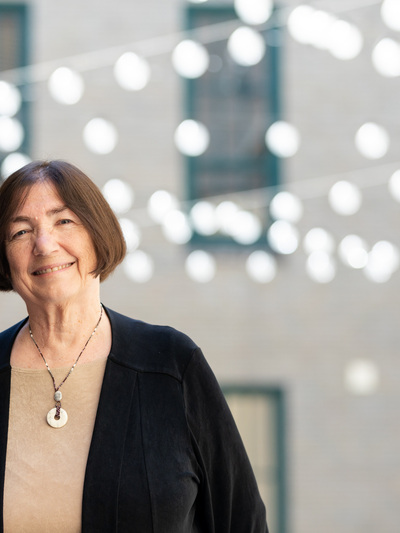 Susan Kline
Associate Professor, Undergraduate Communication Program Director
Qualifications:
B.A., University of Illinois at Urbana-Champaign
M.A., University of Illinois at Urbana-Champaign
Ph.D., University of Illinois at Urbana-Champaign
Courses Taught:
Interpersonal Communication Theory
Persuasion
Communication Theory
Language & Social Interaction
Organizational Communication
Quick Introduction:
Interpersonal communication, social interaction, communication and social competencies; persuasion,argumentation and social influence.
Description:
I continue to believe that communication is a particularly exciting andchallenging subject to study. Most of the intellectual problems I am currently researching stem from my commitments to constructivist communication theory and understanding the relationship between interpretive processes and abilities and features of message design. I have long been interested in understanding the features and effects of messages in accomplishing multiple objectives, such as persuasion and relationship creation, as well as accomplishing the primary objective of common ground and "understandings" with others. How rhetorical and communication capabilities develop in children, and how families can help children develop their communication capabilities and understandings has been a focus of study. This interest has been connected to furthering a basic understanding as to how persuasive messages and argumentation works in deliberative contexts, so we can help improve the quality of civic discourse, both in the media and in social interaction. A third interest is in furthering an understanding of the way in which language and social interaction works to create desirable identities and relationships, in personal as well as in organizational contexts. More recently, some of my work has focused on how various communicative media features and communication technology forms create different possibilities for facilitating learning, relationships and creating "shared" common ground. Understanding how we can design better person-centered and informative messages and communication systems, whether online or offline, and how these messages and systems create social identities and understandings have all been and continue to be the subjects of study. I enjoy teaching a number of courses at the advanced undergraduate and graduate level. At least once a year I teach persuasion and social influence. I also teach courses in language and social interaction, communication and community, organizational communication, and interpersonal communication. At the graduate level my seminars have focused on contemporary viewpoints in communication theory, as well as research in interpersonal communication, communication development, theories of message design and discourse analysis, argument theory in deliberation contexts, and technology and social interaction. Currently I enjoy collaborating with a quite a few graduate students on research projects.
When I'm not teaching or writing, I'm busy with my fiancée contemplating how to update our Clintonville home, or how to landscape our back yard. Summers, though, are best spent camping at A26, La Wis Wis in the Gifford Pinchot National Forest at the southeastern corner of the mountain on which I love to hike, Mt. Rainier.