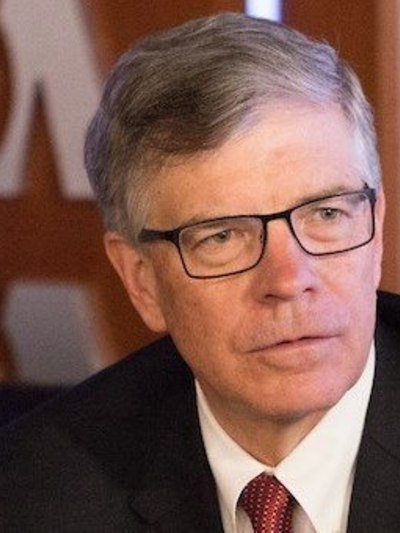 School of Communication and Department of Political Science
Qualifications:
M.A., The Ohio State University (Journalism)
B.A., The Ohio State University (Journalism)
Trimble has been an international journalist, editor and media manager for more than 35 years. He came to Ohio State in 2018 as Lecturer in the School of Communication and the Department of Political Science.
Trimble served most recently as Deputy Director of the Broadcasting Board of Governors (BBG), the U.S. government agency that oversees all U.S.-funded non-military international broadcasting, including Voice of America and Radio Free Europe/Radio Liberty (RFE/RL). The BBG (renamed in 2018 as the U.S. Agency for Global Media, USAGM) networks distribute content in more than 60 languages to a measured weekly global audience of more than 300 million people. As Deputy Director, Trimble was the senior career agency official and assisted the Chief Executive Officer in overseeing the strategy and operations of the agency, which has an annual budget of more than $800 million. He represented the BBG in U.S. government inter-agency strategic planning and coordination efforts, including with the State Department, National Security Council, Department of Defense and the Intelligence Community.
From 1997-2007 Trimble worked at RFE/RL, where his positions included Acting President; Director of Policy and Strategic Planning; and Director of Broadcasting, in charge of all editorial content in more than two dozen languages of the former Soviet space, Central and Eastern Europe, Afghanistan, Iran and Iraq.
Previously Trimble worked at U.S. News & World Report magazine for 15 years, in positions including Assistant Managing Editor, Foreign Editor, Moscow Bureau Chief (during the final five years before the collapse of the USSR), Mediterranean Bureau Chief (covering the Vatican, southern Europe and the Balkans, the Middle East and Africa) and diplomatic correspondent.
He holds a master's degree (1982) and a bachelor's degree (1978) from The Ohio State University, did graduate study in the Soviet Union (1979, 1980-81) and speaks Russian.