Lecturer Jeffrey Trimble has come full circle.
After receiving both his bachelor's and master's degrees from The Ohio State University in 1978 and 1982, respectively, Trimble became an international reporter, where he covered the fall of the Soviet Union, served as the acting president at Radio Free Europe/Radio Liberty, and served as deputy director for the U.S. Agency for Global Media. In 2018, he returned to Ohio State as a lecturer in the School of Communication and the Department of Political Science.
When Trimble was a freshman at Ohio State, he was a physics major determined to become an astronaut. However, he had always been interested in journalism, with a brother who was a reporter at the Columbus Dispatch. After Trimble took an introductory journalism course for a general education requirement credit, he was hooked. He declared a major in journalism and began writing and taking photos for The Lantern.
After undergrad, Trimble began an internship at the Kansas City Star just days after graduation. But a few months later, he returned to Ohio State to study international journalism as a graduate student.
In 1982, Trimble was hired by U.S. News and World Report after completing an internship with the publication. He covered the United Nations, national security issues and regional affairs from their New York City bureau.
In 1983, he was sent to Rome, Italy, for three years. There, he covered foreign affairs issues in the Mediterranean, The Vatican, Middle East terrorism, the apartheid in South Africa, Iran and Iraq War as well as the beginning of the Soviet and U.S. thaw in tensions in 1984.
Because he could speak Russian, Trimble was sent to Moscow in August of 1986, where he spent the next five years covering the eventual dissolve of the country.
"I was incredibly fortunate to have been able to be in the Soviet Union during that time, including writing the story that predicted the collapse of the Soviet Union about a year before it actually collapsed," Trimble said.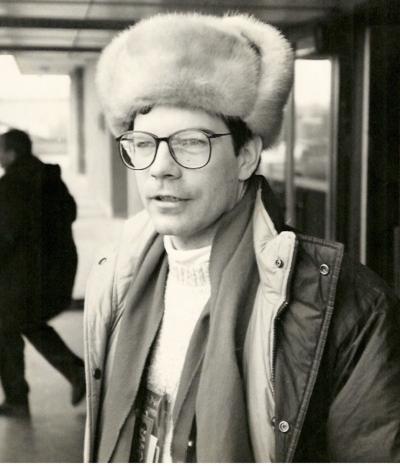 Trimble went on to work as the deputy foreign editor, foreign editor, and finally as the assistant managing editor before he left the U.S. News and World Report in 1997.
Then he transitioned from print to radio and began working for Radio Free Europe/Radio Liberty. While there, Trimble held several roles, including director of broadcasting, director of policy and strategic planning, and finally acting president.
Trimble also served as director of programming, executive director and deputy director for the U.S. Agency for Global Media, until he left the organization in June of 2018.
That was when he decided to return to his alma mater and teach students about his experience.
"I'm extremely fortunate to have the opportunity to come back to Ohio State and to begin to think about ways that I could try to enrich and foster the next generation of journalists who are concerned about the state of the journalism business and want to rethink the journalism business and have it fit into the modern era," Trimble said.
Currently, Trimble teaches three courses: international communications, disinformation in the digital age and terrorism and media.
"The underlying of the courses that I teach is the importance of Americans as participants in our democratic society to understand and appreciate the role of the media in our society," Trimble said.
Trimble said he's inspired by his students on a daily basis.
"Coming from Washington with the sort of understandable concerns and divisions in Washington D.C. and now being able to interact with a young generation of motivated, smart, engaged, optimistic students gives me a lot of energy that makes it a very enjoyable experience," Trimble said.
Article by student Jonathan Mayes.
---