Whether it's the completion of a groundbreaking research project, writing for an award-winning media publication, interning with a national corporation, conquering a fear of public speaking or developing campaigns for real-world clients, undergraduate students in The Ohio State University School of Communication are diverse in their achievements.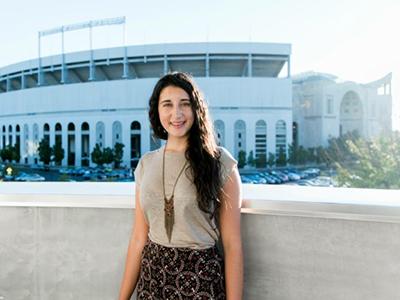 Third-year public affairs journalism major Elizabeth Tzagournis is like many of her classmates in the span of her accomplishments, but as an avid traveler, experienced media intern, food aficionado and triple minor specialization holder, she is a student with a story worth sharing.
Unifying Tzagournis' many interests is a goal of getting other students to be passionate through class, study and work and to follow their own goals through to completion. For each student, she emphasizes the educational importance of traveling, specifically through study abroad trips.
"I think the experience is invaluable--you can't get it at any other time in your life. Being a student at a different school is such a unique experience," she said.
Currently, Tzagournis is studying in Spain, and she also completed a program in Australia. She believes that students should try to get scholarships or make sacrifices for these "transformational" experiences. While she attributes much of her growth to these study abroad trips, Tzagournis notes that she has also benefitted from opportunities provided to her by the School of Communication.
"Utilizing the things that the School of Communication and the College of Arts and Sciences provide are very essential to being a successful student. There are so many opportunities and resources available," Tzagournis said.  
"I was the kid who went to the resume reviews and practice interviews. That's where I learned a lot, from all of the resources they offered."
Tzagournis found the internship of her dreams through a School of Communication affiliation. After attending an event sponsored by the Public Relations Student Society of America chapter at Ohio State, she became acquainted with resources offered by the evening's keynote speaker, Lauren Berger,  "The Intern Queen."
After searching through Berger's website and finding the perfect internship, Tzagrounis spoke with one of her media professors who was more than willing to give her a reference. She found that her relationship with her professor was made even stronger through the use of the College of Arts and Sciences' "Take Your Professor to Lunch" program.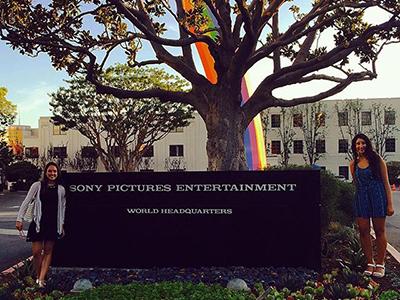 With reference in hand and dreams of engaging others through television, Tzagournis found herself in Los Angeles last summer. She served as a film and television development intern at Will and Jada Pinkett Smith's production company — and Sony Pictures subsidiary — Overbrook Entertainment.
In addition to her experience in L.A., Tzagournis has served as a production intern with local NBC4 segment Daytime Columbus. She's also worked as a journalist with The Lantern, gaining special access to panels with guests like Laverne Cox. Recently, she began hosting a segment for Lantern TV titled "Eats with E," and she keeps her food fandom consistent while abroad through her Instagram page @initiallyeat. 
In spite of the variety of Tzagournis' experiences, it is with her time spent in broadcast and primetime television that she hopes to transition into late night media after graduating from Ohio State.
Although Tzagournis is only a junior with many extracurricular activites and three different minors (Spanish; business; and media production and analysis), she still plans to complete her degree in four years. She hopes that all students can form their own paths by taking advantage of the same exciting opportunities that she has through the School of Communication.
"This is a unique time in our lives, and I try not to take it for granted. I am very excited about life and the future, and I love that there are so many opportunities at Ohio State," Tzagournis said. "You could sit in your dorm room and do nothing, or maybe go to class every so often and pass the exams. But you should utilize the school to its whole advantage, or yourself to your full advantage--that's something I always try to put into practice."
Article written by student Kelsey Pohlman
---