Strategic communication major Trina Thomas is now in her fourth year at Ohio State, but her list of accomplishments far surpasses that of the average college senior. By the time she graduates in May, she will have completed multiple internships, assisted in freelance work, contributed to the university's communication research and made her mark on a School of Communication student organization.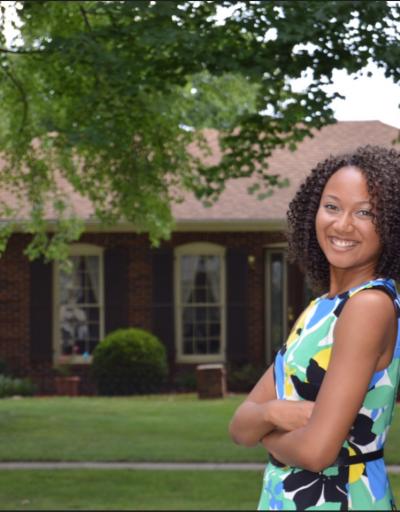 Thomas is currently an intern at L Brands, a position she has maintained since the end of her junior year. Thomas searched L Brand's postings on FutureLink (a website for Arts and Sciences students and recent graduates to connect with potential employers) and finally found the internship that matched her interests and skills in the community relations department. She turned down an opportunity from another large company for the chance to be part of L Brand's company, and thankfully, it has worked in her favor.
"Prior to my first internship I wish I would have known how to take advantage of getting to know people outside of the department that you are interning in -- to take advantage of the whole experience of the internship." Thomas said. "That's what I've done at L Brands and it has helped me see all the roles people have that impact the business."
L Brands' fashion focus interests Thomas, but sports is also a passion of hers. She participates in an Ohio State athletic communications internship alongside her L Brands internship, and has done freelance communication work for the Cleveland Cavaliers and the Big Ten Network.
As if two internships in one semester were not enough for this full-time student, Thomas also assists the Wexner Center for the Arts with event planning. "You can make anything an internship," she said.
In high school, Thomas' above-average achievements earned her a Morrill Scholars Program Distinction Scholarship to Ohio State. This scholarship is given to high school seniors who show a commitment to leadership and diversity in their communities. Thomas has honored this commitment as a women's studies minor, former intern in Ohio State's Office of Diversity and Inclusion and current president of the Black Advertising and Strategic Communication Association (BASCA).
"BASCA gave me a chance to really think about my future since my freshman year," Thomas said. "Now as a senior, being involved in BASCA my whole college experience, it just makes me feel so prepared. I have more direction."
Thomas plans to pursue a master's degree in a few years, an achievement that shows the passion Thomas holds for her chosen career.
"I want to be the person everyone comes to for their crisis situations," Thomas said. "I could see myself coming back to a school to be a professor; I definitely would like to write books someday…just take over the world."
Article written by student Amanda Gruenhagen
---