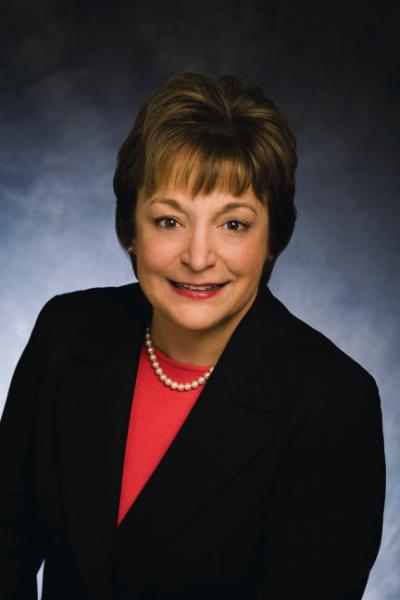 Susan Henderson (MA, journalism, 1979) serves as senior vice president and chief communications officer for Rite Aid. Her time at The Ohio State University helped her prepare for a career in corporate communications and public relations.
Henderson is responsible for managing corporate communications, which range from media relations and financial communications to  charitable giving initiatives. Most recently, she assisted the Rite Aid Foundation in collaborating with Folds of Honor to develop a project to raise funds for young children and spouses of fallen or disabled service members. The DreamShip is a full-sized hot air balloon with panels made of drawings from more than 200 children illustrating their hopes and dreams. This initiative drives awareness and raises additional funds for the beneficiaries.
On October 7, Henderson visited Ohio State and spoke to a class of communication students about her 32 years of experience in corporate America. She discussed the skills she has acquired in her work and her extensive insight into the communication and journalism fields. In this Alumni Q&A, Henderson shares her knowledge about the industry and the advice she has for current students.  
How did your experience at Ohio State get you to where you are today?
Even though I had an undergraduate degree in journalism and communication, I had no real journalism experience. I didn't have a lot of business experience either, so I took several marketing courses and accounting at the business school. Obtaining a basic business background and developing an understanding of how to read balance sheets and income statements really helped me.
When I was looking to make some extra money, I was asked by an Ohio State instructor to write some articles for the The Columbus Dispatch. I started making $50.00 for each story, all of which were less than 500 words. Working at a newspaper is not so much the path you have to take these days, but it was good at the time. I covered Ohio's juvenile justice system, which ended up being on the front page of the paper. This project is how I wound up at Miller Brewing Company, where I stayed for 20 years.
What is your favorite memory from your time at Ohio State?
I really enjoyed the close collaboration and friendships I formed with my fellow graduate students, especially the Kiplinger fellows, who, at the time, were part of the graduate journalism program. Because they were all former reporters, they had great stories to tell — usually over a beer or two — about what a reporter's life was really like. It was insightful and fun!
Tell us a little bit more about your position at Rite Aid. What have you learned?
Right now, Rite Aid is in the middle of a merger with Walgreens. This is the second merger that I have been part of, the first being between Wrigley and Mars in 2008. It's been one of the most intellectually interesting and fun opportunities to figure out how to be nimble. You have to be very resourceful. I have been here almost six years now. We turned to profitability in 2012, and it's great to merge this number three company with a leader in global pharmacy.
What advice do you have for current students in the School of Communication?
Take this time to have some fun in figuring out what you want to do. Being intellectually curious is very important. Find things that make a difference to you, that are interesting to you. What I really love about people in this generation coming into the workforce is that it is a much more collaborative group of people; it's kind of second nature. Start making networking connections now; you should not be waiting until your senior year of college.
If you have any shot or opportunity to do any kind of work abroad, it is really good for your experience and your resume. You're building your own brand, you're building your own narrative and you're building your own story.
Article written by student Erin Burnett 
---