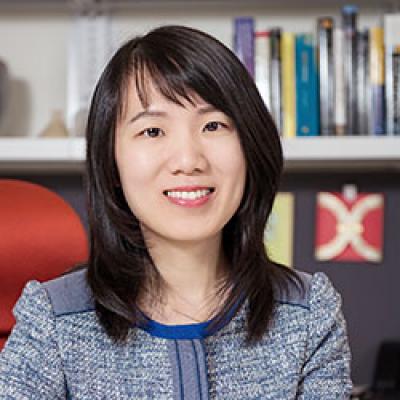 Associate professor Zheng (Joyce) Wang let her passion for research lead her around the world and eventually to The Ohio State University. Since joining the School of Communication in 2007, Wang has become affiliated with many departments across the university. Most recently, she was selected as the faculty-in-residence for Translational Data Analytics (TDA).
TDA at Ohio State provides accessibility and integration of Ohio State's data analytics assets and expertise. This transforms how the university works with industry and community partners to prepare students to be the future data analytics workforce. Wang is responsible for facilitating the development and implementation of graduate academic programming of TDA.
"To build graduate programs in TDA is an exciting and massive effort that cuts across all the colleges and departments on campus," Wang said. "I am trying to provide students with the best training and preparation for the merging workplace that is hallmarked with an increasing emphasis on data analytics."
In addition to TDA, Wang is affiliated with the Center for Cognitive and Brain Sciences and Decision Sciences Collaborative. She also established and serves as the director of the Communication and Psychophysiology Lab (CAPLab) in the School of Communication.
In the CAPLab, undergraduate and graduate students use psychophysiological methods like heart rate variability, skin conductance level, eye movement and brain waves to understand how audiences' attention, emotion and attitude respond during media processing and how those affect their attitudes and behaviors.
Wang began her career working as an editor for an evening news program at China Central Television after earning her bachelor's degree in journalism and communication from the Youth University for Political Sciences in Beijing. This is where she began asking herself deeper questions about the effects the news program had on her audience.
"Our program was ranked among the top five most-watched evening news programs in China at the time," Wang said. "I felt a tremendous responsibility and wanted to know what effects the program could have on our audience."
The desire to discover the effects of media on the human mind led Wang to pursue a master's in communication and a joint PhD in communication and cognitive sciences at Indiana University. She thought she would return to work in television after completing her master's degree, but her fascination with the psychophysiological methods and computational modeling methods only grew as her studies continued.
Currently, Wang focuses her research on the long-term effects of media multitasking behaviors on attention and psychological wellbeing. She said when designing a research project, she and her student co-authors try to ask the right questions that are both intellectually interesting and socially relevant.
"I love to work hard for things I'm passionate about, and I love to see that in my students," Wang said. "Then, we try our best to find a way to answer our research questions, and we learn a lot from the process and contribute to our scientific understanding of the phenomena."
Article written by students Krista Bliumentalis and Allison Predmore 
---