July 16, 2021
Ohio State's School of Communication Honors Diversity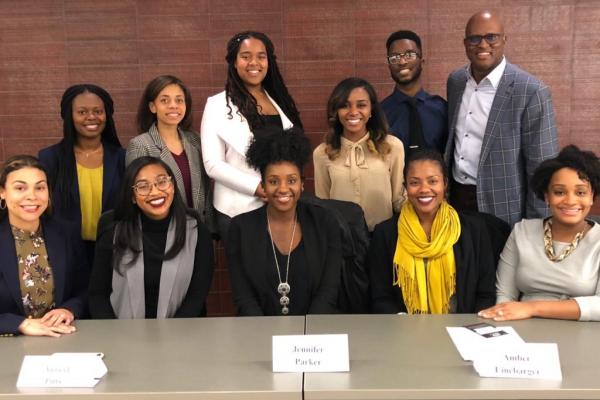 Ohio State's School of Communication embraces and maintains an environment that respects diverse traditions, heritages, experiences and people. The school  seeks to recognize, understand and welcome the contributions of diverse groups and the value group members possess as individuals.
In addition to taking coursework focused on diversity, equity and inclusion issues, students can also participate in The Black Advertising and Strategic Communication Association (BASCA), The National Association of Black Journalists (NABJ) and The Holt Official Watch List (HOWL).
BASCA is a partnership between students, faculty and professionals intended to develop and prepare Black students for careers in advertising and strategic communication. Recently, four of BASCA's members were hired by The Shipyard, a marketing engineering agency with an ongoing professional relationship with BASCA to support its student members. Learn how to join BASCA.
NABJ is a network of journalism majors, and other students who have an interest in journalism and media-related professions. NABJ-OSU comes together to discuss topics relating to journalism as it pertains to the Black professional experience, and to be an inward facing presence to the whole of the OSU community as a media organization that honors diversity and celebrates Black excellence. BASCA is open to all students of any background. Learn how to join NABJ.
HOWL/Graduate Student Preparedness Program is designed for, but limited to students of color, women, and other traditionally underrepresented groups, with the purpose of helping these students gain admission into graduate, law, MBA, and other post-graduate programs, and/or to be successful in landing higher profile professional positions after graduation. The program is based in the School of Communication, but is open to all students regardless of their academic discipline. Members are selected by Dr. Lanier Holt.
The HOWL has proven to be successful in helping members achieve their goals. In 2021, HOWL member Skylar Harris was accepted into the University of California, Los Angeles. Another 2021 member, Jasmine Hilton, earned a position at the Washington Post as a Metro Desk intern. In previous years, graduating members attended schools such as The Ohio State University, Duke University and Michigan State University. 
Learn more information on the school's commitment to diversity, equity and inclusion.
---