PRSSA Joins National Conference: Indy Style
Where other communications students and public relations professionals gather, the Public Relations Student Society of America (PRSSA) chapter at Ohio State goes.
From October 21-25, seven members and two faculty advisers from the Ohio State chapter traveled to Indianapolis to mingle with fellow PRSSA peers, hear from speakers in the field and gain professional experience through varied sessions. Ohio State PRSSA even earned a Star Chapter Award for their successes through the past year.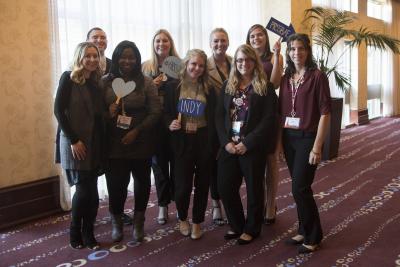 From resume critiques to general sessions with industry leaders like Bridget Coffing, chief communications officer for the McDonald's Corporation, attendees had limitless opportunities to advance their knowledge of the field and further prepare for their futures.
"Bridget Coffing really inspired me and gave me confidence in my PRSSA experience," said Emma Grubaugh, president, Ohio State PRSSA chapter. "She kept saying how amazing and useful the peer networking at conferences are, and looking at all of my new connections, I really felt that sentiment."
Students had the opportunity to choose from four different sessions throughout the day. Some of these special sessions included guides to storytelling, crisis communications, a conversation with Warner Bros. and event planning.
While all of the experiences were helpful, the networking that took place between sessions and at the welcoming party was arguably most important.
"At the PRSSA National Conference, you learn to be an influencer not only by listening to amazing speakers, but also by being surrounded by your driven and passionate peers," Grubaugh said. "I am already looking forward to next year's conference in Boston."
BASCA Experiences the Nation's Capital
The election season may have been a little crazy, but that did not stop the Ohio State Black Advertising and Strategic Communication Association (BASCA) from traveling straight to the heart of it all, Washington, D.C.
From November 9-11 BASCA student members explored the nation's capital, interacting with alumni and political figures and touring museums, agencies and corporations. The team also had the opportunity to network with Ohio State alumni at an event on their first evening in the city.
The group toured two agencies with offices located in the capital: Levick, a leading strategic communication and public relations firm, and Edelman, the largest global marketing communications firm. To gain a different perspective, BASCA also toured and met with strategic communication professionals at Coca-Cola to learn about in-house communications for a Fortune 500 company.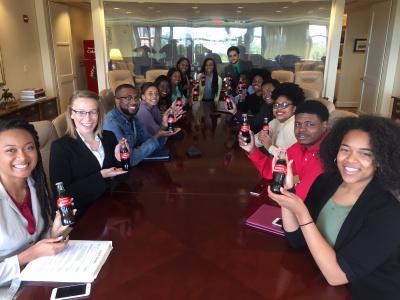 BASCA members had the opportunity to meet with U.S. Senator Sherrod Brown, members of his staff and a press secretary. This gave the group the opportunity to learn about political communications and working in different roles within the government. Senior student and BASCA Social Chair Tinae Bluitt described this as an eye-opening experience. 
"We spoke to his press secretary," Bluitt said. "We got to learn about this route we didn't know we could take after college."
The trip would not have been complete without a visit to the Smithsonian National Museum of African American History and Culture and a tour of Howard University. The Smithsonian Museum was established in 2003 but did not open until this year, on September 24. It is the only national museum devoted exclusively to the documentation of African American life, history and culture. Howard is known as one of the nation's most respected and historically Black universities.
"My favorite part was the new national African American museum that we visited. Since we are a majority African American organization, we all could relate to it," Bluitt said. "It was very powerful. Being in there had me speechless."
Article written by student Kelsey Pohlman 
---