April 25, 2023
Undergraduate Student Shares Research on Black Press
Image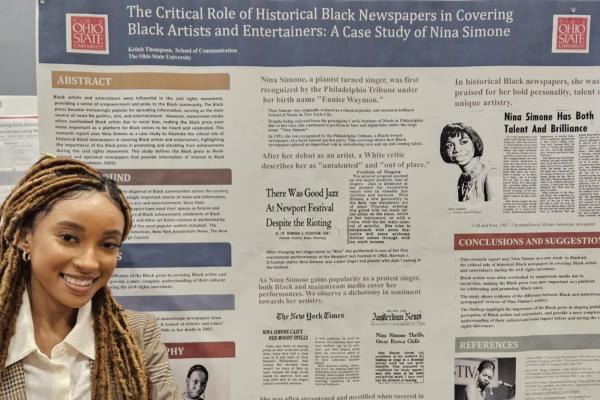 Description
Keilah Thompson (Strategic Communication, '23) presented research on the Black Press at the Spring Undergraduate Research Festival at Pomerene Hall on April 6.
Thompson's research project was a case study on the influential musician and activist Nina Simone, advised by Associate Professor Felecia Ross through the "Treasures of the Black Press" research program. This program encourages students to propose a research project utilizing historical Black newspapers. Thompson's passion for entertainment publicity led to her investigation of the coverage of Simone's career by the Black press during the civil rights movement. 
The Black press played a crucial role in elevating the achievements of Black artists and entertainers during this period when mainstream media often overlooked them due to racial bias. Thompson's study retrieved content from Black and mainstream newspapers from ProQuest's Historical Newspapers database, looking at articles and critics' reviews of Simone's performances from the 1940s to her death in 2003. This research report highlights the importance of the Black press in promoting and celebrating the work of Black artists and entertainers during the civil rights movement.
"Representing the School of Communication by presenting my case study at the Spring Undergraduate Festival was super rewarding," Thompson said. "By applying my learnings from coursework and internships to my research project, I was able to hone in on my career goals as an entertainment publicist. Through my research, I exercised my critical analysis skills to build a case study on a topic I'm really passionate about." 
Thompson also serves on the executive boards of both the Black Advertising Strategic Communication Association and the Public Relations Student Society of America chapter at Ohio State.
---