August 7, 2023
Maltese Scholar Studies at Ohio State as Fulbright Fellow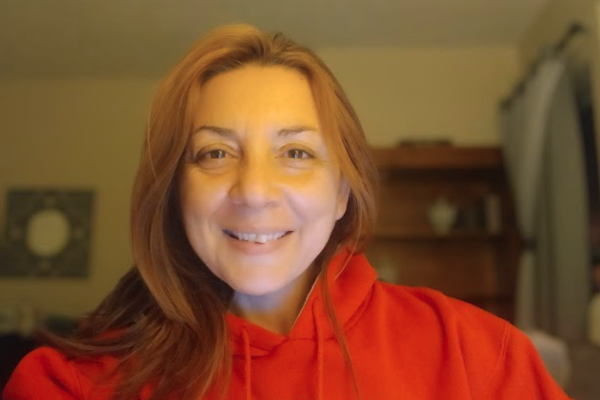 After a long career in journalism, Rosemarie Calleja, a Maltese journalist and senior media lecturer at Malta College of Arts Science & Technology, was looking for an opportunity that would broaden her understanding of communications across various disciplines. Specifically, she wanted to learn how to conduct interdisciplinary research between political science and communications to further shape her PhD proposal. She found that during her time as a Fulbright Fellow with Ohio State's School of Communication during the fall semester of 2022.
Having been interested in Professor Michael Slater's work in "Reinforcing Spiral Model," as well as Professor William "Chip" Eveland and Professor Kelly Garrett's research on polarization in the media, Calleja reached out to Ohio State with a PhD proposal to study media polarization and applied to the Fulbright Program.
"I wanted to learn more of how to do interdisciplinary research," Calleja said. "I didn't have a lot of background on political communication so I thought, 'Why not? While I'm there, now that I am with the best, because you've got the best professors there." 
During Calleja's semester at Ohio State, she took courses that focused on political communication and public opinion. 
Calleja said her experience at Ohio State greatly helped her shape her PhD proposal. Specifically, she said Eveland mentored her, helping her focus her studies on affective polarization, a type of polarization where a person believes that their own viewpoints are "right" and opposing viewpoints are "wrong," and learn the methodology needed to research the topic. 
"The thing that I was lacking was new research," Calleja said. "In my country, I did not have the access to study all of that information, so at OSU I was really happy because I could get all of the journals that I needed."
During her time studying as a Fulbright Fellow, Calleja attended seminars with other Fulbright Fellows from all over the world. Calleja also attended the National Communication Association Annual Convention in New Orleans with Ohio State PhD candidates and a conference on climate change organized by the Fulbright Association in Cleveland.
"For me, it was a big deal – meeting all of these researchers and scholars who did a lot of important work," Calleja said. "Some of them could win the Nobel Prize."
Aside from her studies, Calleja also enjoyed the atmosphere of Ohio State.
"I had never seen fall. In my country we do not have change of seasons because it's very hot here," Calleja said, "[At Ohio State], I experienced all of the leaves falling, and it's beautiful. I really loved it."
Calleja has continued her PhD journey at the University of Malta where she researches whether Maltese partisan media increases or decreases affective polarization. This is a milestone study as Malta was never previously included in Southern European studies in affective polarization.
---