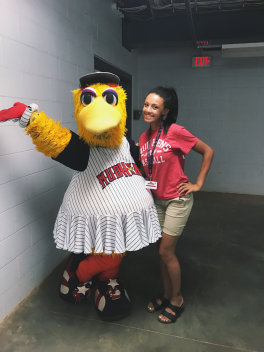 During her time as a Buckeye, undergraduate student Lexi Turner completed six internships and held leadership positions with many student organizations like the Panhellenic Association and the student-run public relations firm The PRactice, where she is currently the director of communications. 
She said her time in The PRactice provided some of her most rewarding experiences at Ohio State. After joining The PRactice as an account associate in January 2018, she moved up to become an account lead in May 2019 and co-led a team of eight associates to provide event planning and social media services for clients such as the Legal Aid Society of Columbus and Freedom A La Cart. 
The Legal Aid Society is a nonprofit that provides legal assistance in civil cases to economically disadvantaged individuals in the Columbus area, whereas Freedom A La Cart is a social enterprise that empowers and provides jobs for survivors of sex trafficking through its cafe and bakery.
Turner also led a team that supported the Buster Douglas 30-year anniversary celebration. This was a celebration of local World Heavyweight Champion Buster Douglas and his fight against Mike Tyson for the 1990 Heavyweight Championship, which Douglas won despite the odds being 42-to-1 against him.
For the 2020-21 academic year, she served as director of communications for The PRactice, which she said has been the most gratifying position. She takes pride in creating the organization's social media calendar for the school year. Turner loved the working closely with the other board members. The position also prepared her very well for interviews.
"Every person I speak to thinks it's so cool that we get to run a public relations firm," said Turner. 
Turner graduates this spring with a bachelor's degree in strategic communication and two minors in history and social psychology. 
In fall 2020, Turner began interning for the National Black Alumni Reunion, working on their social media marketing efforts. Part of her job was bringing together Black alumni chapters from predominantly white institutions and historically Black colleges and universities, primarily in the Midwest Region, for a week of chapter development, career pathways and networking. 
The National Black Alumni Reunion will launch in Columbus, Ohio, Aug. 25-29 in conjunction with the HBCU Classic for Columbus. Turner created a Facebook page and YouTube, Instagram and Twitter accounts to promote the summer 2021 event. 
Turner also served this year as the vice president of recruitment and retention for the Panhellenic Association at Ohio State. This position oversees the 18 different sorority chapters' recruitment efforts and organizes the PHA formal and informal recruitment processes in January. Turner and her team coordinated the first completely virtual recruitment in the university's history due to the COVID-19 pandemic. 
"It was honestly a pretty stressful time because I didn't want to let anyone down, but with the coronavirus we pretty much had to start from scratch," Turner said. "COVID-19 seemed to change something every single day." 
Turner and her team did their part to make recruitment as accessible as possible and diversify the community. They implemented mandatory diversity and inclusion training into the recruitment preparation, which was Turner's favorite part.
"It was really incredible to see the total number of participants had not decreased due to the COVID-19 pandemic, which was extremely rewarding and fulfilling,"  Turner said.
As vice president of recruitment and retention, Turner helped generate interest in more than 1,200 students, with 800-900 new students ultimately joining Greek life.
During her time as an undergrad, Turner also interned for The Ohio State University College of Arts and Sciences Center for Career and Professional Success and held several marketing internships.
As a social media marketing intern for Career Success, Turner learned foundational concepts that she will carry with her throughout her other roles in the future. Bruce Houtz, marketing manager for Career Success, made a huge impact on this experience for Turner and taught her how to use Hootsuite, MailChimp and Adobe Premiere. Turner notes that in most of her interviews after this position, many were impressed with her skills on these platforms. 
"Bruce made such a big impact on my entire career because he laid the base/foundation for most of my social media marketing skills," said Turner. "He was the best first boss I could ever ask for."
Interning with the minor league baseball team Toledo Mud Hens is how Turner learned about events and promotions. Turner's work dealt with learning great people skills while speaking with fans, throwing out promotional items and working with the mascots.
"I am so thankful for my time at Ohio State," Turner said. "I feel like Ohio State gave me so many opportunities to get involved and meet new people. I really found my community."
Article by Student Ally Gresh.
 
---