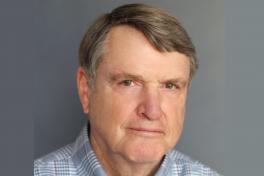 This past September, Ohio State alum Leonard "Len" Downie Jr. (journalism, '64) published a memoir, All About the Story, describing his 44 years at The Washington Post. Downie's love for journalism began at a young age, after reporting for his school newspaper in the fifth grade. This fifth grade reporter would go on to become one of the most respected journalists in the country.
Downie grew up in Cleveland, Ohio, and received a scholarship to attend The Ohio State University's School of Journalism. Before graduating in 1964, Downie became managing editor of The Lantern, managing editor of The Ohio State Alumni Magazine and covered two national championship football and basketball Buckeyes games. Downie describes his time at The Lantern as, "like working for a professional newspaper," and an experience that prepared him for the rest of his career.
It was also at Ohio State that Downie discovered his passion for investigative reporting—or what he likes to call "accountability journalism."
Post-grad, Downie found himself interning at The Post where he was given several late night police beats to cover. Reporting these police beats led him to investigating the DC Court of General Sessions. Downie discovered issues within the courts relating to prisoner suicides, judge shopping and politicized appointments. The reports that were investigated by Downie and published by The Post resulted in Lyndon B. Johnson's administration abolishing the court and replacing it with the DC Superior Court. Following these investigations, Downie became a full-time investigative reporter for The Post and was a finalist for a Pulitzer Prize.
After a two-year fellowship studying urban issues in the United States and parts of Europe, Downie authored his first three books about court reform, investigative journalism and his concerns with the state of America's real estate industry. Downie then returned to The Post as deputy metro editor. This role placed Downie on the chain of command in the investigation that would turn out to be the Watergate scandal.
The Watergate scandal was the first of many major national events that Downie would cover during his career at The Washington Post. In 1984, Downie became the managing editor under Executive Editor Ben Bradlee. Downie then succeeded Bradlee as executive editor in 1991. Watergate, the Clinton administration scandal, and 9/11 all took place during Downie's time at The Post.
After spending long hours and late nights in the newsroom, Downie's focus was on The Post, Which was not without personal cost.
"I devoted my life to journalism, and that is not great for your social life," Downie said.
Now as an educator, Downie advises his students to take this level of demand into consideration when mapping out their career and life goals.
Demand in Downie's career not only meant sacrificed time, but also tough decisions. As an editor for The Post, Downie ultimately had to make decisions that would change lives. Some examples include publishing the first story about Monica Lewinsky and what approach The Post would take following 9/11. Downie refers to his "biggest failure" as the lack of attention that he gave to his reporters who discovered that the Bush administration was dishonest about the connection between Iraq and the attacks on 9/11.
Although some of his decisions did not pan out the way that he hoped, Downie still described his career in journalism as extremely rewarding. During his 17 years as executive editor, The Post was awarded 25 Pulitzer Prizes. Downie retired from The Post in 2008.
Downie is now a professor of Accountability Journalism at Arizona State University's Walter Cronkite School of Communication and Mass Media. He has written seven books about his experiences and knowledge. Becoming an educator was never a part of the path Downie imagined for himself, but he's found it a rewarding next step in his career,
"Working with students who are in love with journalism and want to devote their lives to accountability journalism is very gratifying."
Article by Student Rachel Lilly.
---