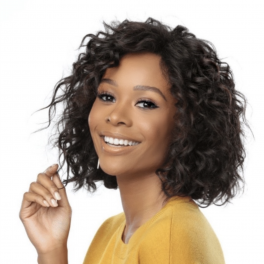 Zuri Hall (strategic communication, '10), is an Emmy award-winning correspondent for NBC's "Access Hollywood" and the sideline reporter for "American Ninja Warrior." She runs the YouTube channel "Hey Zuri Hall!" with 115,000 subscribers and her podcast called "Hot Happy Mess" has more than 11,000 Instagram followers. 
The Ohio native worked hard to forge her way into the entertainment industry and her current positions in Los Angeles. Her experiences at Ohio State and after, as well as the industry connections she made in the process, truly paid dividends in the long run.
"Sometimes I go back through old emails of me cold calling for work and it reminds me how far I've come," Hall said.
Hall landed her first post-college job as the face of MyINDY-TV 23 in Indianapolis after competing against hundreds for the position. In this role, she learned how to edit TV packages and covered local news for WNDY-TV. 
With a goal to be nationally recognized by 25, Hall ventured to Dayton to be "Living Dayton's" on-camera host/producer from 2011 to 2012 after her first job in Indianapolis. She also emceed at the 2011 NCAA's Final Four events, for one season for the Indiana Pacers and during Super Bowl XLVI's 10 days of entertainment events. In 2013, she moved to Dallas to be an evening news anchor.
"It was an uphill battle, and I really had to climb the ladder," Hall said.
Once she accepted a host position at FUSE TV in New York City, she felt the momentum start to build. Hall hosted a game show at MTV called "The Challenge: Battle of the Exes II." From 2015-2019, she was a daily correspondent for E! News, hosting shows on their Instagram and Snapchat.
"I always knew I wanted to go into the entertainment industry, and I didn't believe in backup plans," Hall said.
In her current role as a correspondent for NBC's "Access Hollywood," Hall films at the Access Hollywood studio, records stand-ups for "American Ninja Warrior" and interviews celebrities at red carpets events. Her favorite celebrity — whom she has met a couple of times — is Oprah.
"I truly look up to Oprah," Hall said. "She has this energy that pours into you. You feel seen in her presence."
When Hall isn't being an entertainment reporter, she's creating a safe space for real women through Zuri Hall's "Hot Happy Mess" podcast. She discusses how to practice self-love, relationship and marriage advice and finding your magic amid what life might throw at you. 
She takes a lot of pride in creative freedom and seeing her ideas from scratch come to life. More than that, Hall cherishes the community she's fostered.
"We are in this mess together, and I'm happy to give my listeners the platform to share their stories and feel supported," Hall said.
In 2016, Hall launched the AlphaBabe social movement and lifestyle brand. She empowers women to discover their #AlphaBabe style through her website's own quiz. She felt inspired to help other women learn new things about themselves and embrace their duality.
"I want women to understand they can do both and be powerful in different ways," Hall said.
Originally from Toledo, Hall attended Ohio State as a Morrill Scholar where she laid the foundation for her professional career.
Hall graduated with a Bachelor of Arts in strategic communication and a theater minor in 2010. She was active in the Black Student Theatre Network, where she formed a passion for crafting messages and developing her personal brand.
Hall also currently serves as a member of the School of Communication's Advancement Board.
As an alumna, Hall asked herself what her purpose was and how she wanted to communicate her brand to a mass audience. Hall also said she has shared the struggles of being a Black female in the entertainment industry and is encouraged by the shift in public opinion and understanding. She's learned to lean on those who support her and her allies willing to amplify her voice.
"We must fight even when our voices shake," Hall said. 
Article by Student Lauren Taras.
---