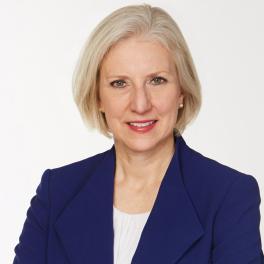 Linda Thomas Brooks  (B.A. Journalism, 1985) has decades of diverse experience in the fields of media, advertising and consumer behavior. She is currently the president and CEO of MPA – The Association of Magazine Media. Headquartered in New York City, the industry association represents 175 domestic magazine media companies with over 900 titles.
Before joining MPA in January 2016, Brooks was co-founder and president of GearDigital, a data-driven integrated agency. Throughout her career, Brooks has developed media and marketing strategies for well-known brands and companies such as General Motors, GEICO, Johnson & Johnson and The American Cancer Society. She is still involved with The Ohio State University through serving in advisory roles for the Buckeye Leadership Fellows Program and the College of Arts and Sciences. Brooks discusses her experience at The Ohio State University and how it impacted her career.
Where are you from and how did you end up at Ohio State?
I'm originally from Chicago. I went to high school in Northwest Ohio. I ended up at Ohio State because Ohio State has great, active alumni who stay involved with the university and act as recruiters. I was looking at schools elsewhere, and there was a very active alum in my area who said, "You should look at Ohio State," and then told me about some scholarship programs. That's what eventually turned my head and it's also what made me stay involved when I became an alum because I saw firsthand what it does to have that kind of involvement and personal attention. 
How did your time at Ohio State prepare you for your career?  
Ohio State really prepared me in a couple of ways. One of the things I like to say is it's not actually Ohio State's job to get you your first job as a student- it's to prepare you for a lifetime of jobs.
What Ohio State did was prepare me to not only be useful when I got out of school, but to be able to use my basic knowledge to look at the future to see what's happening, to make sense of all this new information and to absorb information in different ways.
And on a very specific basis, what Ohio State did for me was it taught me to be a killer good proofreader and copy editor. My employees and my children don't often appreciate my skills in that area, but I can spot a typo at 50 yards. I swear I can. That was from my J-school professors.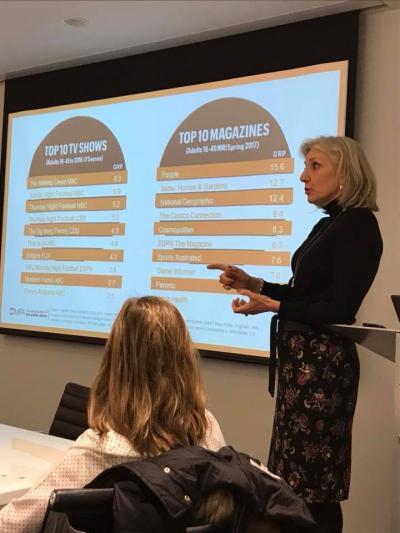 Tell me about your current position as President and CEO of MPA - The Association of Magazine Media?
It's a really interesting evolution for me because I spent most of my career around the advertising business. This position came up about two years ago, and frankly, kind of as a surprise. I didn't necessarily have my eyes on it, but what it allowed me to do is have the synthesis of areas that are interesting to me. I get to spend my days thinking about professionally researched, written, edited, produced, curated content, so what differentiates professional content from everything else out there in the ecosystem. I help media companies create business models that support that because we're not going to have good journalism if people aren't paid to be journalists. So that's a big part of what I get to do, and that makes it really, really exciting for me to put my feet on the floor every morning and think about how do I operate in the ecosystem and support good journalism.
What do you love the most about the communication and media industry? Did you always know you wanted to work in this field?
I was absolutely, positively, 100 percent sure that I was going to be a newspaper journalist. That's what I trained to do and what I thought about doing, but what happened, and again what Ohio State does for you, is it opens your eyes to other things. What I saw were a lot of different ways that people use their writing skills, research skills, and ability to synthesize information in other ways.
I always knew I wanted to be in the business somewhere, I just didn't know where that somewhere was. To tell you the truth, if you had told me when I got out of Ohio State that at some point I was going to be the president and CEO of this media trade association, I would've said you're crazy. But this series of opportunities has presented itself. I love taking the skills I have and doing something new and applying them in different ways.  
Recently you hosted students from Ohio State's PRSSA chapter at MPA in New York City. Why was this something you wanted to do?
Because it's exactly the kind of stuff I wanted to do when I was a student. Again, I didn't know that I wanted to go to a media association. I just wanted to absorb everything I could and see what else was out there and what people did for a living. I hope it's interesting just to see different ways that people have applied this information and skills. 
Article written by student Christian Snyder
---