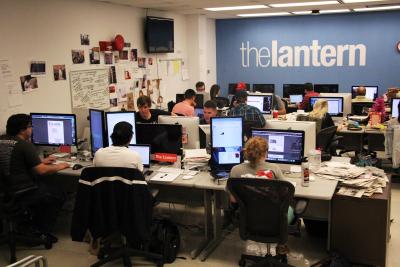 A student newspaper may not be the first outlet that comes to mind when one thinks "breaking news." This  year, however, The Lantern continued to illustrate the passion Ohio State reporters and editors have for accurate and timely reporting.
Ohio State's student newspaper, The Lantern, led the coverage on some of the university's biggest, and at times most tragic, events that received national attention.
The knife attack that put Ohio State on lockdown in November 2016 became breaking news around the country, and The Lantern's coverage competed with national news sources including CNN, ABC News and The Washington Post. The online article received more than 400,000 page views. Multiple news sources, including The Columbus Dispatch, wrote articles to praise the way The Lantern covered the event. 
"We got a lot of attention not only for the story but for the way we covered it," Spencer Hunt, lecturer and director of Student Media for The Lantern, said. "That's rare but that was a really nice thing to happen for the students for their hard work."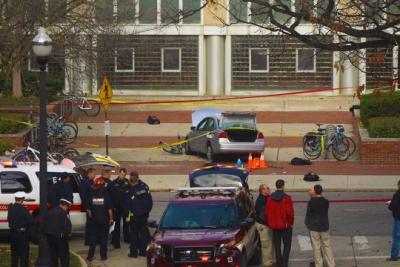 The video of a protester at an anti-Trump rally being tackled in the Ohio Union was captured by Grace Fleisher, a student reporter at The Lantern, on Nov. 14, 2016. The footage spread nationally and received over 1 million views on YouTube.
The Lantern continued to be a leading source of updates during the disappearance and tragic murder of Ohio State student Reagan Tokes in February.
"I had never cried while covering the news until I covered the Reagan Tokes story," Nick Roll, campus editor for The Lantern, said. "At the end of the day, though, it's our job to cover the news professionally and responsibly, whether the news is tragic or positive."
Roll said no matter the situation, the number one job of The Lantern staff is to benefit the community by informing people with "aggressive and outstanding reporting." This professionalism and commitment to accuracy is at the core of The Lantern's success, whether the story is breaking news or a small event.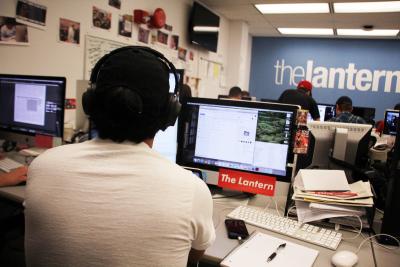 "I think that more than anything is the lessons that the students have taken away from this," Hunt said. "If we follow a plan for how we respond to new and surprising situations and we do it well, then we can be in a place where everybody is paying attention."
The Lantern remains committed to giving students real-word professional experiences and training the next generation of professional journalists to be nimble and professional in all situations.
"It feels weird, and maybe wrong, to say we benefited from [these events] professionally. But, objectively, we did. We gained national exposure and became a leading source of information," Roll said. "However, we didn't just step into the limelight, so to speak. We gained professionally, only because we did a professional job."
Article written by student Amanda Gruenhagen
---