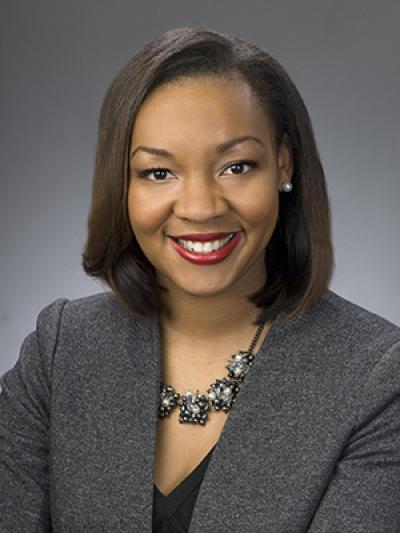 Nicole Staples Walker (BA, Journalism, 2007) serves as AT&T Ohio's director of external affairs. Learn about how her experiences in the School of Communication prepared her for a career spanning government, nonprofit and corporate sectors.
In her role as director of external affairs,   Staples Walker is responsible for cultivating and maintaining AT&T Ohio's relationships with federal, state and local elected officials in 12 central Ohio counties. She also manages philanthropic contributions to area nonprofits aligning with the company's community engagement goals and objectives. 
Though she graduated in 2007, Staples Walker has already explored communications roles within government, nonprofit and corporate settings in her career. In this  Alumni Q&A, she recalls how she made the most of her time as an Ohio State student.
Tell us a little bit about yourself. Where are you from? Was there a specific moment when you realized that you wanted to study journalism, or did you always know that was the path you would pursue?
I am originally from Cincinnati, Ohio, but I decided to make Columbus home after graduation. 
I knew I wanted to study journalism by my junior year of high school. That year I signed up to take our school's journalism class as my arts elective, and ended up falling in love with the idea of sharing stories that people needed to know about. But, looking back, I think I always knew I would study journalism. When I was a little girl, I would watch the nightly news with my Dad almost every night. He saw it as additional education for my siblings and me. We also had to read the Sunday paper as additional "homework." It was torture at the time, but I secretly loved it. 
When it came to deciding on where you wanted to go to school, what is it about Ohio State's School of Communication that stood out to you?
I knew that being a part the School of Communication at Ohio State would mean having access to top instructors and resources. It also didn't take me long to realize that the school's newspaper, The Lantern, was a real source of information for students and I wanted to be a part of that.
When you got to Ohio State, did you get involved on campus beyond just taking classes?
Yes! Someone once told me that Ohio State gets smaller the more involved you are, and it's very true. I was involved in several organizations, including the Student Alumni Council, SERV Team (now Buck-i-SERV) and the African American Heritage Festival planning committee. I also maintained a role as a Lantern staff reporter, worked as a communications intern for the Ohio State University Wexner Medical Center, served as president of the Public Relations Student Society of America (PRSSA) chapter, was elected to become a member of Ohio State's 2007 Homecoming Court, and studied abroad in Dijon, France. I am sure that I am forgetting a few others!
What is it about your journalism degree that prepared you for a successful career in external affairs? How did coming from Ohio State set you apart from others in your field?
More than anything else, I think my degree taught me how to adequately communicate an idea and how to work under pressure. Both of those skills come into play almost daily. Because I work for a large company, we always have a new product or initiative that needs to be communicated to specific audiences. And, because we are a technology company, I have to be flexible while responding to things that aren't always in my control. 
What were your biggest take-aways from your Ohio State experience?
I think my biggest take-away has been that you will get out of something what you put in. And it's proven to be true for me post-graduation. I happily gave a lot to the university in service, and it gave me more than I can ever pay back. 
Compiled by student Katie Frank
---