Wenbo Li is a fourth year doctoral student in the School of Communications focusing his research on the media effects of individuals and society. Li guides his research with one overarching statement: How can media, especially social media, be used for promoting social good? 
Currently, Li's research program is focused on the role of media and communication in inequality and social justice. He believes addressing these issues is socially important and communication approaches can make a difference.
In one study, Li and his advisor, Dr. Hyunyi Cho, examined how social networks and engagement with social media news through actions such as liking, commenting and sharing may influence information inequity between high and low socioeconomic groups, a phenomenon known as the knowledge gap. They found that engagement with social media news reduced both health and political knowledge gaps. Li plans to continue this research on the potential of social media and social network engagement in attenuating inequalities.
Li is also looking into research that highlights media against minority groups, such as Asain Americans and people in the LGBTQ+ community. Recently he published a study on why people of Asian descent have been stigmatized during the COVID-19 pandemic.
"We found that maladaptive coping, partisan cable TV, social media use and racial prejudice were significantly associated with the beliefs that Asian Americans are COVID-19 risks and they are responsible for the COVID 19 crisis," Li said. 
He is currently working on an intervention project that will utilize the potential of mediated intergroup contact. 
Li was born and raised in China. While in China, he attended university, double majoring in journalism and mass communications. He chose to study these topics because they interested him, and he believed he could excel in this field. 
After achieving an undergraduate degree, he received an internship as a journalist while still living in China. During his time at the internship, he was responsible for covering corporation news as well as working with financial magazines and newspapers. After five years working as a journalist, he decided to go back to school to strengthen his theoretical understanding of media and communication.
In 2015, Li made his journey to the United States to study communication through a master's program at the University of Georgia. There, he earned his degree and enjoyed the warm Georgia sun. Upon graduating, he began his doctoral work at The Ohio State University. Ohio State was a great option for Li because of the amazing program it has to offer, as well as the environment.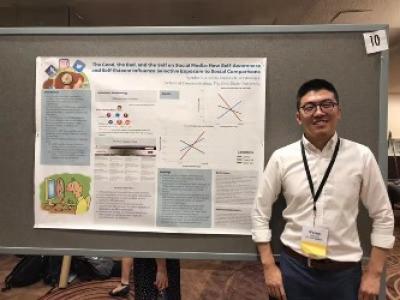 In addition to his research, Li has taught undergraduate courses concerning persuasive communication and communication technologies and plans to pursue a career in academia so he can continue to help others understand the importance of communication. 
"Studying and researching communication always gave me a sense of accomplishment," Li said. "I hope to continue educating people and using media to educate people about behavior change, about attitude change, for example toward minority groups."
In his spare time, Li enjoys playing tennis and badminton at the RPAC. Before COVID-19, he enjoyed going to Gateway Film Center to see its independent and commercial films.
Article by student Natalie Mastrantonio
---