In 2019, Jocelyn Dorsey, who studied journalism during her time at Ohio State, was inducted into the Atlanta Press Club Hall of Fame in recognition of her career and role as the first Black newscast anchor in the Georgia market. Dorsey also holds a spot in the Georgia Association of Broadcasters Hall of Fame. 
Dorsey started her journalism career at Ohio State working for The Lantern, where she learned the skills needed to succeed in the media world. Dorsey began her career in 1972 at the Cincinnati Herald, a historically Black newspaper. Her time ended quickly there as she had an opportunity to work as a reporter for WKRC-TV in Cincinnati. From there, Dorsey found her permanent home as the first Black newscast anchor in 1973 at WSB-TV in Atlanta. 
During her time at WSB-TV, Dorsey rose through the ranks. She was a successful newscast anchor for 10 years before being promoted to director of editorials and public affairs. 
Dorsey said she felt the pressure of being the first Black anchor, from both the white and Black communities in the South. She experienced segregation and deep-rooted racism for the first time in her transition from Ohio to Georgia because she "grew up in a bubble."
"I was an outsider," Dorsey said. "I did not have the historically Black college or southern experience."
This did not stop Dorsey from creating a community around her, including Coretta Scott King, a civil rights activist and wife of the late Martin Luther King Jr., and Maynard Jackson, the first Black mayor of Atlanta. She also reported on key events and stories throughout her career. She attended a news conference held by J.B. Stoner who was making his announcement to run for governor of Georgia, where she received backlash from the crowd because of her presence as a journalist. 
After 45 years with WSB-TV, Dorsey retired in 2018.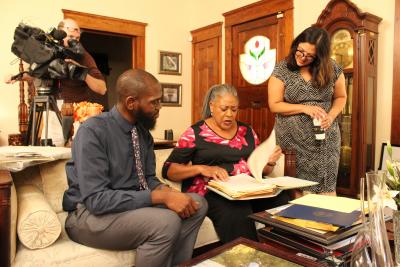 Dorsey is involved in multiple nonprofits and holds seats on several boards. Some of the notable nonprofits she works with are the , Sisters by Choice, Communities in School Atlanta, Thanks Mom and Dad Fund, Atlanta Victim Assistance and UNICEF.  She is also a member of the School of Communications Advancement Board.
Dorsey recommended that students take advantage and participate in the opportunities Ohio State offers like The Lantern. She advised students to "immerse yourself in it and do not take no for an answer." 
"Stay true to yourself," she said. "Employers do not hire for skills but hire for your values."
Article by student Xena Stearos
---