Nicole Kraft wears a lot of hats.
She's an associate professor of clinical communication in the School of Communication, teaching a variety of classes such as media law and ethics, writing and editing for media, and sports media. She's director of Ohio State's Sports and Society Initiative. She's a sportswriter, often covering Ohio State men's basketball and the Columbus Blue Jackets.
But perhaps the best aspect of her career is the time she spends working and learning from the students she teaches.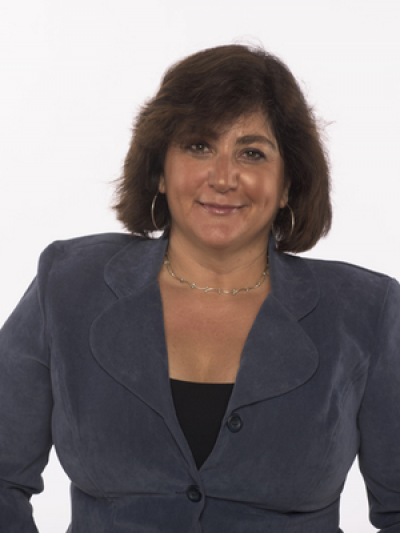 "Students are the best part of my job," she said. "All of my students teach me something."
Even in the summer, Kraft spends time teaching student-athletes, especially freshmen students who are getting acclimated to college life. During these summer sessions, Kraft prepares student-athletes for their upcoming college journey by introducing them to new technology and emphasizing the importance of connecting with staff and faculty members. 
Kraft said this is a powerful experience because it enhances students' ability to get more out of their studies by teaching them valuable tips before college.
It is important to Kraft that she is accessible to her students at any time of the day — not just during class and designated office hours. She believes it is critical to be readily available for her students if they have questions about assignments or papers — even at 10 p.m.
Her favorite thing about her students is the resilient effort she sees from them each day. She believes her journalism classes are always changing based on current events, and she admires her students for being able to keep up with any new challenges or obstacles they face.
"You've got to ride the wave, and you can't tell the wave where to go," she said. 
Kraft attends her students' extracurricular activities, including their games, plays or fashion shows. She enjoys watching her students do what they love and values the friendships and relationships she's built with them.
Kraft also brings students along with her to Columbus Blue Jackets and Ohio State basketball games, where they have the opportunity to gain real life journalism experience. At the games, students work alongside industry professionals in the press box.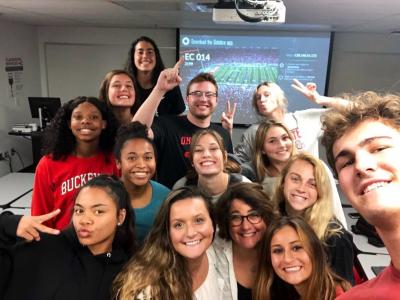 Along with bringing students to the games to gain real life experience, Kraft also helps connect her students with internships through various networking events. 
Her advice to students to begin their careers is simple: "Connect with the faculty that you connect with."
Kraft is a steward of her own advice, as she goes above and beyond to connect with her students. To them, she is more than a professor. She is a mentor, advisor and — most importantly — a friend.
Article written by student Seth Goldfarb.
---