Being honest about personal interests proved to be PhD candidate Katy Coduto's advice to not only other communication students, but herself. After completing undergraduate and graduate school at Kent State University, Coduto obtainned a job at an advertising agency but felt her influence on the world was incomplete. She is now following her passions by receiving her PhD in her research fields of interpersonal and computer mediated relations.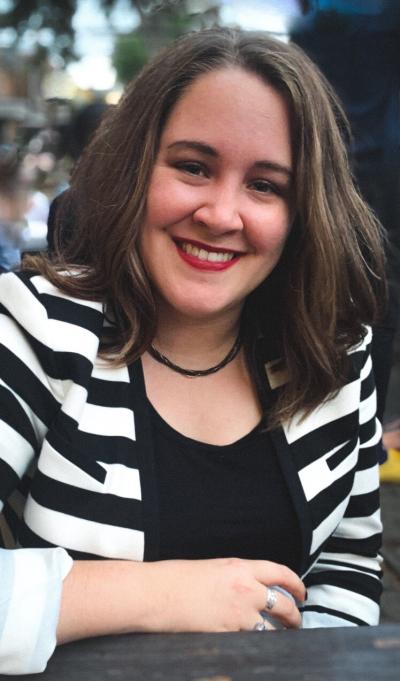 As Coduto worked as an advertising account planner at Marcus Thomas LLC, she was able to answer and research many interesting questions. However, these questions were not her own, so the born-and-raised Ohioan began to apply to graduate schools.
After meeting with several professors from Ohio State, Coduto found she would finally be able to conduct research she is interested in at Ohio State. As she works to analyze one-on-one communications and specifically the process of online dating, Coduto finally feels like her questions are being answered.  
"Communication is really powerful whether it is mass communication or interpersonal," Coduto said. You can't really exist without it. There is a lot of meaning that comes from it." 
Coduto was skeptical about connections formed through dating apps after seeing her friends use them to find happy relationships — even if they did not last. She wondered if she could apply what she knew about communication into the dating app world. Coduto is interested in how individuals make their dating app profiles and their thought processes regarding matching and messaging potential mates.
Other research studies of hers include interviewing over 50 people about their interpersonal communications. Coduto wrote an article examining social anxiety, loneliness, and dating app users and how it impacts their experience. She gets practical insight to help them approach dating in a healthier way. 
Coduto also teaches undergraduate courses, such as communication and decision-making.
Coduto was recently awarded a grant to study at Carleton University in Canada, where she conducted in-depth research into the "science of love." She says the trip was successful because she received feedback she couldn't have gotten elsewhere. 
The Columbus Dispatch cited Coduto's research on interpersonal communication in an article about Facebook Dating.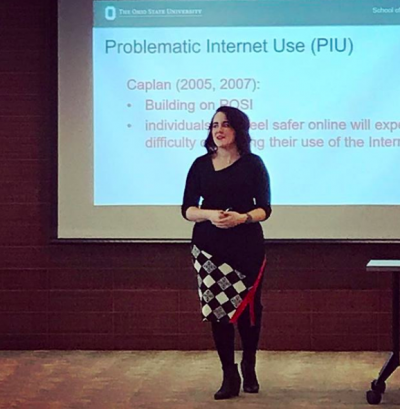 As she progresses toward her PhD, Coduto hopes to become a professor. She knows continuing to teach and do research would allow her to live her passions every day. Coduto says her work is rewarding because the chance consider questions that have real-world ramifications is important. 
"It's pretty crazy. I just wake up every day and think about the things I want to think about," Coduto said. "I don't have to go to a job where I don't want to do things or dread something."
Coduto attributes this to the honesty she maintains to herself about her personal interests. 
So as you think about your next move in life, ask yourself, "Will I be happy to wake up and do this every day?" Coduto would say being that this honesty about your interests is the most important step in following your passion.
Article by student Abby Clark.
---