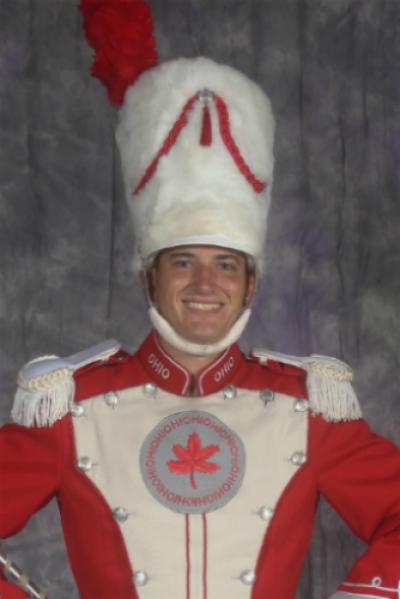 Konner Barr, a fourth-year strategic communication major from Gahanna, Ohio, just had what was likely the biggest week of his life so far. Serving as the 62nd drum major for The Ohio State University Marching Band, he marched in the Macy's Thanksgiving Day Parade in New York City, then two days later, led the band during Ohio State's crushing victory over Michigan. 
"Being able to participate in the Macy's Thanksgiving Day Parade was an amazing experience," Barr said. "It was a very hectic week, but being able to perform in front of millions of people was unforgettable. As a kid, my family would always watch the parade on Thanksgiving morning, so to be able to actually be in the parade was a really cool thing." 
After returning to Columbus on Friday night, Barr was looking forward to marching down the ramp onto the field for the big game the next day. 
"The Michigan game was such a thrill," Barr said. "The crowd was unbelievable, and the performance that the band had was incredbile. That whole day was everything you could ask for." 
Barr's general duties as drum major include overseeing the D-Row (the drum major training squad), the pregame backbend, leading Script Ohio, performing a routine with the Gray Baton and the pregame goal post toss. These specific duties are iconic to The Ohio State University and are traditions that have been around for over 140 years.
Barr's greatest accomplishment during his time at Ohio State has been fulfilling his lifelong dream of becoming head drum major for the school that he grew up loving. This is a highly competitive tryout process where ability, knowledge and leadership capabilities are put to the test.
"This is something I've worked toward since I was 6 years old," Barr said. "Coming out here to put on a great show and having the opportunity to lead this band is an honor itself."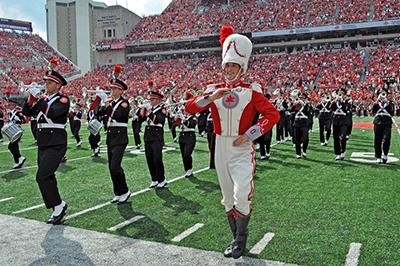 Barr first attended Ohio State Newark before transferring to Columbus. During his time at Ohio State Newark, he perfected his craft and gained more expertise. In 2016, Barr earned the part of assistant drum major and maintained that role throughout the 2017 season.
Being in the marching band has helped Barr prepare for life after college. "One of the biggest things you learn in the marching band is time management," Barr said. "You are constantly having to deal with managing certain situations and I normally organize all the things that I have to do weekly in my iPhone calendar." Barr has also found the daily interactions helpful in developing better networking and social skills.
Barr plans to graduate from Ohio State in fall 2019 and hopes to use his strategic communication degree to go into the media relations field. He currently works with the College of Arts and Sciences Marketing and Communications Department.
"I've been able to utilize my video-editing and content-creating skills that I've learned throughout my time in the School of Communication," he said, adding that he is grateful for the professors that have helped prepare him for his future during his time at Ohio State.
"The School of Communication contains such a wide spectrum of classes," Barr said. "My favorite class would have to be Persuasive Communication with Professor Kristie Sigler. Coming to her class was very enjoyable because she would always be curious about the marching band aspect."
"Ohio State has sky-rocketed academically within the past ten years," Barr added. "The School of Communication is pretty highly regarded in terms of national ranking in the United States." These factors, along with the goal of becoming head drum major, are the main reasons why Barr wanted to come to school at The Ohio State University.
Article written by student Sam Lankie
---