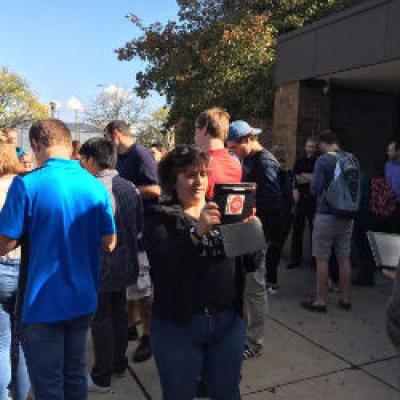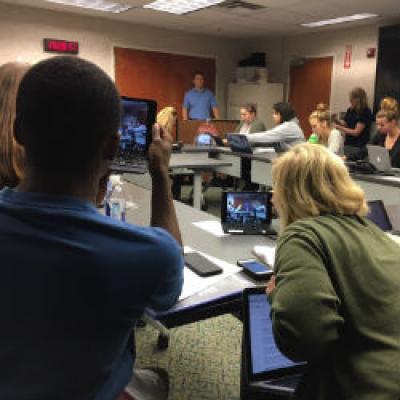 As The Ohio State University embarks on a journey to become a Digital Flagship University through a new collaboration with Apple, innovation in many forms is also underway within the School of Communication. New classroom technology and innovative teaching styles not only position the school as a leader within the university, but give students the skills and experience needed to enter careers in the evolving world of research, media and communication.
The Ohio State-Apple partnership will provide iPad Pros to all first-year students as a learning tool starting in 2018, technology already implemented in media writing and editing classes in the School of Communication. Assistant Professor-Clinical Nicole Kraft became the first recipient of the Digital First Impact grant in 2013, which allowed her to provide iPads for an entire class. Students use the technology to gain experience, such as using iPads to report on a simulated crime scene on-site.
"You know the iPad is an amazing device for many reasons. Not the least of which, from a reporter's standpoint, is there's really nothing that you need to do as a reporter, from writing and reporting, to shooting photos and video, to editing to social media, that you can't do just using one device," Kraft said.
Many other School of Communication courses also use technology to improve learning outcomes and teach digital skills. Students in public speaking courses use Voice Vibes, a cloud-based software that enables students to record and practice their public speaking skills and have a personal "speech coach" at the click of a button. Instructors use interactive tools like TopHat, PollEverywhere and Explain Everything to track attendance, manage interactive classroom discussions and provide interactive slides.
Beyond classroom technology, the School of Communication also leads the way as the university pushes for a larger, university-wide emphasis on using technology in different ways to positively impact teaching and learning. School of Communication lecturers were among both of the first two faculty cohorts selected by Ohio State's Affordable Learning Exchange to create open education resources to reduce classroom costs and implement innovative new course redesigns. Online textbooks created as part of this program can be downloaded in multiple formats and saved students more than $50,000 annually.
New classes and class formats continue to be added to keep pace with the changing digital landscape. Assistant professor Joe Bayer created a Social Media Analytics class where students utilize social media analytics tools such as Crimson Hexagon and learn how to analyze social commentary and sentiment. The class is taught in a classroom with multiple wall-mounted screens that allow students to wirelessly broadcast their laptop or mobile device displays to the nearest screen for collaborative work. Professor Jesse Fox is collaborating with the Ohio Supercomputer Center on a virtual reality research lab that would allow researchers to collect data on participants' reactions to immersive virtual reality environments.
The school also continues to add classes offered online or in a hybrid format, with coursework split between the classroom and online. During fall semester 2017, the school offered 142 courses and 26 (18 percent) were available in either online or hybrid formats. This number is estimated to increase to 35 courses (25 percent) by fall semester 2018. One large lecture hall now includes a camera controlled from the podium and other technology that facilitates hybrid and online classes. A new studio under construction will give instructors a space and equipment to record professional quality content for their courses from a convenient location.
A new research space opened in spring 2017 with nine human-computer interaction rooms that allow researchers to record HD video of participants and what they are viewing in real-time from a central control room. The school is also in the process of outfitting an active learning classroom with the flexibility and technology for students to work collaboratively and project from devices to wall screens.
The school is continuously adapting and incorporating new media technologies in the classroom and research spaces. New technology, educational tools and resources, and research spaces have assisted in keeping the School of Communication at the forefront of the digital age. 
Article written by student Krista Bliumentalis
---