While internships are traditionally the way students gain hands-on experience in the field and foster relationships with professionals, the School of Communication has built a curriculum that ensures students have unparalleled opportunities to work with professionals in the classroom, as well.
Courses in the School of Communication give undergraduate students the opportunity to interact with local professionals. This can present opportunities to form a relationship with an individual already successful in his or her chosen field or gain realistic experience working with a client.
Local Professional Teaches Broadcast News Class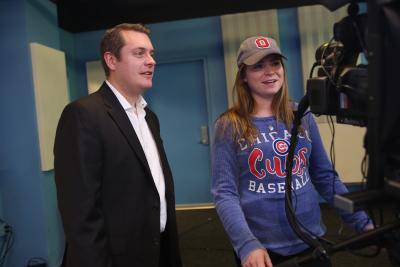 Harrison Hove, local NBC4 anchor and reporter recently decided to dedicate time to teaching a class at Ohio State on broadcast journalism. In his class, students get real-world experience and are able to see what it is like to work in the broadcast journalism field today.
Individuals who invested time in Hove's own professional development and helped him gain the skills he uses today improved his undergraduate experience. Hove said his mentors helped him become the best professional he could be, and he sees this teaching position as an opportunity to pay it forward.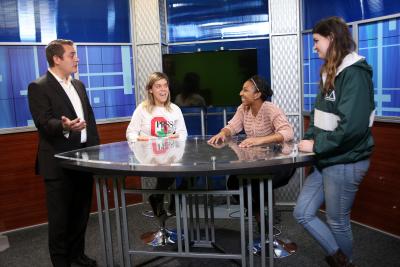 The students are not the only ones benefitting from this collaboration. Hove admitted he enjoys this position more than he thought he would.
"The caliber of student at Ohio State is so high," Hove said. "I'm interacting with the best and brightest."
He adds that it is very rewarding to see students have "light bulb moments" and watch how their skills improve in the classroom each week.
---
Public Communication Campaigns Course Works With Local Clients
The capstone course for strategic communication students provides students the opportunity to develop a comprehensive and thorough public relations campaign for a real-world, local client.
Each semester,  faculty members teaching the course choose local clients who their students will work with for the semester. In the most recent semester, clients included Columbus Birth and Parenting, DareDevil Dogs, Piada Italian Street Food and The Roosevelt Coffeehouse. Past clients include Nationwide Children's Hospital, The Godman Guild and MidOhio Foodbank.
The course is centered on a step-by-step process in strategic communication campaign development, including conducting formative research, developing strategy and tactics and evaluation. Students are divided into groups, which they work with the entire semester to develop the public relations campaign.
In some sections of the course, students are given the opportunity to interact with a representative from the business in an initial client visit, a team meeting and as part of a final campaign proposal presentation.
"Students say it's one of the hardest classes they take but so rewarding, and clients are blown away by the research and creative ideas pitched by students," said Mary Sterenberg, lecturer of strategic communication. "I've had former students email me so excited because they just saw the Pandora ad they proposed and students who go on to intern or volunteer with our client organizations."
If you are interested in being a client for a Public Relations Campaigns course, contact Mary Sterenberg at sterenberg.2@osu.edu.
Article written by student Brianna Antinoro
---