April 24, 2022
School of Communication Hosts Undergraduate Awards Banquet
Image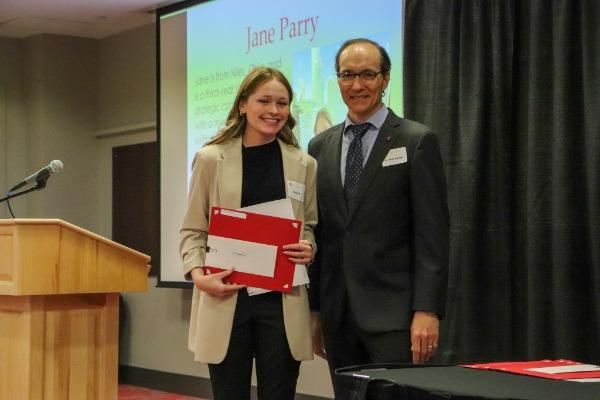 Description
On April 18th, the School of Communication hosted the annual Undergraduate Scholarship & Awards Ceremony. This event is a way to celebrate the achievements of students through awards and scholarship recognition. The school awarded more than $100,000 in scholarships, and the celebration returned to an in-person event after two years on Zoom. 
Dr. Kelly Garrett, newly-appointed director of the School of Communication, opened up the ceremony.
Top Communication Scholar was awarded to Jane Parry, and the Top Journalism Scholar was awarded to Morgan Gibbs. These awards are given to students who are the top junior-rank students who demonstrate exceptional academic achievement. The Director's Award for Achievement for the top senior majoring in communication went to Olivia DeFine.
The Robert F. Wolfe Journalism Honor Medal, the school's oldest award, was presented to Isabella Czajkowski. Established in 1918, this award is traditionally given to a senior journalism student.
The school appreciates all of the alumni donations that make this support for students possible.
Alumni interested in helping the school fulfill its mission to make the next generation of communicators and communication scholars the best it can be can review donation opportunities.
The following students were honored with awards and scholarships for their outstanding academic and professional achievements:
Distinguished Alumni of the Year Award: Rick Milenthal
BASCA Scholarship: Keilah Thompson
Bollinger-Kissell Scholarship: Jessica Barboza 
Marsha S. Bosley Memorial Scholarship: Athena Markowski
Michael V. DiSalle Scholarship: Steven Kishpaugh
William Drenten Memorial Scholarship: Coby Maeir
Charles W. Durfey Memorial Scholarship: Jasmyne Smith
Robert W. Ferguson Award for Excellence in Writing: Evelyn Kretzer
John B. Fullen Scholarship: Jacob Benge
Lester C. Getzloe Memorial Scholarship: Hosna Sadaqat
William Randolph Hearst Scholarship: Megan Husslein
Sandra M. and Michael J. Hermanoff Scholarship: Carrington Calder
Donald L. Kidwell Memorial Scholarship: Tyler Danburg
George J. Kienzle Memorial Scholarship: Thomas Hanks
Kappa Tau Alpha (KTA) Recognition of New Members: Mackenzie Shanklin, Sarah Szilagy, and Tess Wells
Kappa Tau Alpha (KTA) Top Scholar Award: Sarah Szilagy
Kappa Tau Alpha (KTA) Paul V. Peterson Memorial Scholarship: Mackenzie Shanklin
Brennan Family Award for Courageous Journalism: Sarah Szilagy
Hermanoff Lantern Editor Position: Christian Harsa
Carolyn N. Kraft Lantern Editor Position: Gabe Ware
Patricia B. Miller Lantern Editor Position: Arianna Smith
John R. Oller Lantern Editor Position: Thomas Hanks
Robert F. Wolfe Journalism Honor Medal: Bella Czajkowski
Ann Mack Communication Technology Scholarship: Stephen Billingsley
Judy Stewart Mesenburg Memorial Scholarship: J.D. Mooney
Ohio Newspaper Scholarship: Jessica Sunderhaft
James E. Pollard Memorial Scholarship: Amani Bayo
Robert E. Schaefer Scholarship: Angela Ciarochi, Hannah Puckett, Joel Macias
Walter W. Seifert Award: Olivia Cohen
Stairway to Heaven Scholarship: Keilah Thompson
Frank J. Tate Scholarship in Journalism: Arianna Smith
Director's Award for Achievement: Olivia DeFine
Marcy Hill Terry Memorial Scholarship: Ligia Refalo
Paul Underwood Endowment Scholarship: Gabe Burggraf
Paul Williams Scholarship: Mariyam Muhammad
Wilson Sports Writing Scholarship: Casey Smith
Bill Zipf 4-H Scholarship: Aubrey Wright
George E. Hammond Scholarship in Communication: Caelyn Boyd, Daniel Fogarty, Alexys Nukes
Top Scholar Award- Communication: Jane Parry
Top Scholar Award- Journalism: Morgan Gibbs
---