April 23, 2021
School of Communication Honors Top Undergrads
Image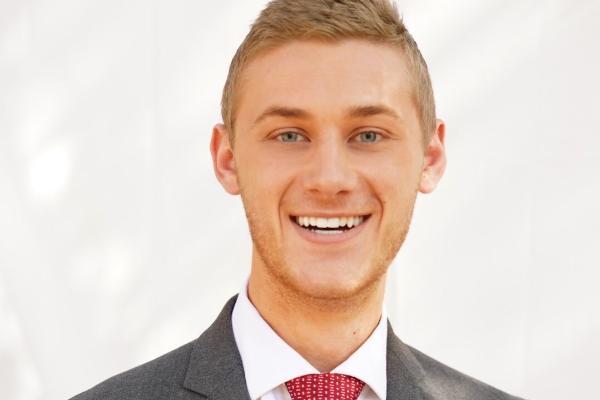 Description
The top undergraduate communication and journalism scholars were honored at the school's annual scholarship and award ceremony on April 16. The banquet, which traditionally takes place in person, was held on Zoom due to the COVID-19 pandemic. 
Gretchen Ritter, vice provost and executive dean of the College of Arts and Sciences, opened up the banquet by honoring School of Communication Director Mike Slater, who is finishing his tenure as director this spring.
Top Communication Scholar was awarded to Andrew Klemm, while Top Journalism Scholar was awarded to Sarah Szilagy. These awards recognize junior level students who demonstrate exceptional academic achievement. The Joseph S. Meyers Award for top outstanding senior was given to Emma Iammarino. 
The Robert F. Wolfe Journalism Honor Medal, the school's oldest award, was presented to Sam Raudins, editor-in-chief of The Lantern. Established in 1918, this award is traditionally given to a senior journalism student.
The first ever Carolyn N. Kraft Copy Chief position was awarded to Asia Atuah. This new award from the School of Communication was made possible through a donation made by the Kraft family.
In addition to undergraduate student recognition, Sandy Hermanoff, chair of the School of Communication Advancement Board, was presented with the Distinguished Alumni Award.
The school appreciates all of the alumni donations that make this support for students possible. 
Alumni who are interested in helping the school fulfill its mission to make the next generation of communicators and communication scholars the best it can be can review opportunities to give here. 
The following students were honored with awards and scholarships for their outstanding academic and professional achievements:
BASCA Scholarship: Angelica Smith-Williams
Bollinger-Kissell Scholarship: Emily Siebenmorgen
Marsha S. Bosley Memorial Scholarship: Olivia Albert
Brennan Family Award for Courageous Journalism: Owen Milnes
Michael V. Disalle Scholarship: Jane Parry
William Drenten Memorial Scholarship: Hannah Puckett
Charles W. Durfey Memorial Scholarship: Athena Markowski
Robert W. Ferguson Award for Excellence in Writing: Aurora Ellis
John B. Fullen Scholarship: Mary Kidwell
William Randolph Hearst Scholarship: Danny Fogerty
Sandra M. and Michael J. Hermanoff Scholarship: Victoria Adams
Marcy Hill Terry Memorial Scholarship: Ladan Askar
Donald L. Kidwell Memorial Scholarship: Chloe Willison
George J. Kienzle Memorial Scholarship: Morgan Gibbs
Sandy Hermanoff Lantern Editor Position: Maya Neyman
Carolyn N. Kraft Lantern Editor Position: Asia Atuah
Patricia B. Miller Lantern Editor Position: Sarah Szilagy
John R. Oller Special Lantern Editor Position: Myriam Muhammad
Robert F. Wolfe Journalism Honor Medal: Sam Raudins
Judy Stewart Mesenburg Memorial Scholarship: Jessica Sunderhaft
Ohio Newspaper Scholarship: Angela Ciarochi
Newton Scholarship: Nathan Forsthoefel
Piergallini Scholarship: Kevin Lapka
James Pollard Memorial Scholarship: Zachary Shafer
Richards Scholarship: Gabriel Burggraf
Robert Schaefer Scholarship: Benjamin Blavat, Jessica Langer, Cassandra Arvay
Walter Seifert Scholarship: Madilyn Wojtowicz
Stairway to Heaven Scholarship: Jacob Benge
Frank J. Tate Scholarship: Casey Smith
Joseph S. Myers Award: Emma Iammarino
Paul Underwood Scholarship: Chantal Brown
Wilson Sports Writing Scholarship: Jacob Rice
George Hammond Scholarship: Hope Miller, Emma Bowers, Asia Atuah
Top Scholar Award- Communication: Andrew Klemm
Top Scholar Award- Journalism: Sarah Szilagy
A recording of the awards ceremony is available here.
News Filters:
---