January 23, 2023
Ohio State PRSSA to host District Conference: PR Pioneers
Image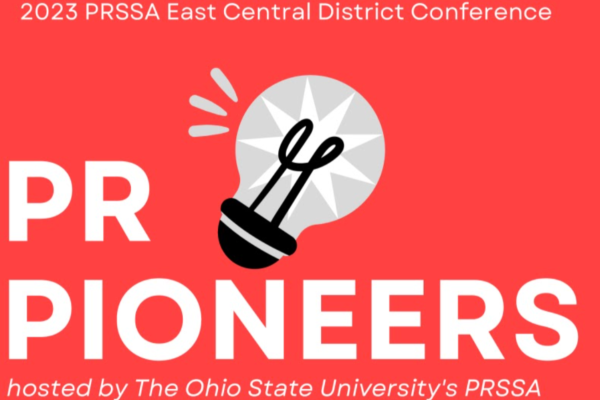 Description
The Public Relations Student Society of America chapter at Ohio State will host the East-Central district PRSSA conference on Feb. 17 from 9 a.m. to 5 p.m. The theme of the conference is PR Pioneers, and sessions will explore professions, companies and topics that are pioneering the future of the communication industry. 
The event will be held in-person at the Fawcett Center with a virtual attendance option available as well. Programming ends at 4 p.m. and will be followed by a networking mixer. 
Sessions will explore pioneering new efforts in the communication field including: 
Keynote speaker: Lubna Najjar, founder of IL Moda Brand Development and developer of the official Fashion district in downtown Columbus
What Should PR Pros Know About NIL? Matthew Heichemer, NIL Business Development and Operations, Ohio State Sports Properties, and student athletes with NIL deals on a panel
Transforming Diversity in Communications, Christine King, VP, Digital Marketing, G&S Business Communications
Ohio State's Brand Experience: Engagement Reimagined, Kevin Saghy, Head of Audience Engagement, The Ohio State University (formerly with Ketchum and the Chicago Cubs)
Future of Leadership in PR, Alyson Hoffman, PRSSA National President
How to Book Your CEO or CLients on TV: The Fastest and Easiest Path to Boosting Any Brand, Meredith Liepelt, Rising Star Publicity
Slay the Runway with Columbus Fashion, Tommy McClure, Founder/Executive Director, Columbus Fashion Council
Core Skills You Still Need: AP Style, Katie Thomas, Nationwide Children's Hospital
Pioneering the Remote Workplace: Best Practices in Employee and Client Relations, Emily Steinberg, Belle Communication
In-person tickets cost $40, including lunch and parking. Virtual attendance tickets cost $25. 
For more information or specific questions, please visit ohiostateprssa.com or email ohiostateprssa@gmail.com.
---