December 8, 2022
Ohio State BASCA Travels to New York City
Image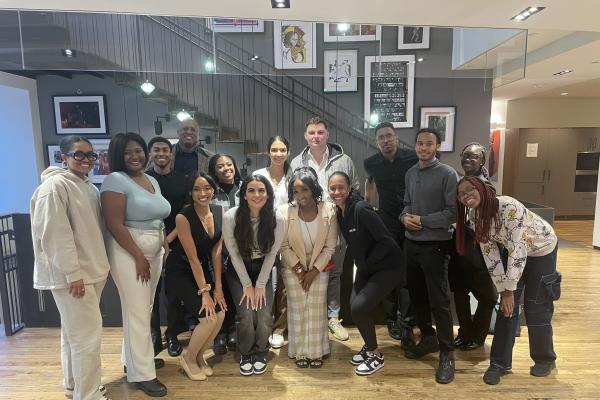 Description
The Ohio State School of Communication Black Advertising Strategic Communication Association celebrated its 10th year anniversary in early November. A week later, BASCA's executive board went on a professional development trip to New York City, visiting companies such as Spotify, Showtime and Victoria's Secret. 
Nine students exercised their networking skills by connecting with professionals to schedule visits and tours of these various headquarters. 
On the first day in New York, BASCA met with the Director of Diversity, Equity and Inclusion at the WeWork headquarters. Students then met with Warner Music executives to learn more about human resources, writing and producing for the music industry. The first day ended with a trip to G&S Business Communications, a leading public relations/marketing agency. 
On the second day, BASCA toured a portion of Spotify's 74 floors at Rockefeller Plaza. Next, students met with public relations executives at Victoria's Secret to learn more about in-house communication. Finally, students went to Playbook Media Group, an artist and entertainment publicity agency, where they met with a celebrity publicist. 
"Our professional development trip expanded my worldview on the vast world of advertising and communications," Keilah Thompson, BASCA member experience co-chair, said. "From visiting the headquarters of a world-renowned record label to sitting down with the team of one of the leading fashion brands for women, the trip showed me how exciting my career path could be. Now I feel even more prepared to take the leap and relocate after graduation." 
Visit the BASCA website and @bascaosu on Instagram to learn more about the student organization.
Images courtesy of Keilah Thompson
---