July 12, 2019
Internship Spotlight: TODAY SHOW
Image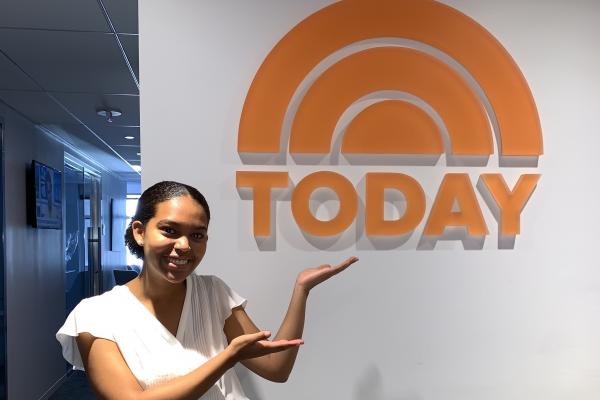 Description
Internship Spotlight
Akayla Gardner
Production Intern with TODAY Show
 
Since June, I've spent my summer as a Production Intern for the world's first and longest-running morning show — TODAY Show! I grew up watching the TODAY Show before heading off to school every morning, and I never could've imagined I'd intern here one day. 
Each week, I move to a different rotation and learn about the many different operations that come together to put four hours of the TODAY Show on-air. Some of the rotations include control rooms, different TODAY offices, and signature segments like Ambush Makeover and Today Food. 
My responsibilities include researching guests and stories, transcribing interviews, and pitching segment ideas — just to name a few. I've shadowed producers, researchers, and production assistants, seeing their day-to-day responsibilities first-hand. 
One of my most memorable experiences so far was going on a shoot with a producer to film an interview on the 10th anniversary of Michael Jackson's death. I can't describe how exciting and rewarding it is to see segments I've been a part of come to life on-air.
The Why
My aspirations of becoming a producer and journalist have only been solidified by interning at TODAY Show. I've only fallen more in love with telling stories and impacting lives ever since I arrived in New York City. Working at the office desk and outside 30 Rock on the plaza, we hear from the audience directly and can see the impact the show has on them.
The thrill of television is one thing that drew me to this field. The stories told on TODAY are often crafted and changed within a few hours or even minutes before the show starts. For some people, pressure causes them to fold. However, seeing how hard the Today staff and crew work to create great content inspires and fuels me to one day do the same.
The Who
It is a privilege to meet so many different people working at NBC News and meeting them is always the highlight of my day. From the internship class of 700 down to my small intern group of 10, I was welcomed into the family that is NBCUniversal.
Working inside the iconic 30 Rock building continues to be surreal. On any given day, I might run into celebrities, executives and tourists — all within a few feet of each other. I've grown a lot more knowledgeable by simply being exposed to the environment. 
I've pushed myself to spark conversations with people, even when I was nervous to do it. I've found so many people are willing to answer my questions and enjoy doing it. The support from my supervisor and fellow interns have made me both confident and comfortable working here.
The How
A question I consistently get when I tell people I'm interning at the Today Show is, "How did you get that?" The truth is: I simply applied. I did my best, and God did the rest. 
My advice to anyone hoping to land their dream internship is to find any possible way to do what you're interested in. There are so many opportunities to work on your craft at Ohio State. If there's not one available for your particular interest — create it yourself!
Also, take your classes seriously. I can think of countless times this summer I've been reminded of what I learned in Dave Fisher's television production class or Nicole Kraft's media writing and editing class. Your professional career and reputation start way before you land an internship. 
Lastly, stay motivated and determined! I applied to over 60 internships during the school year, and I was blessed to be offered my top choice. Even if you don't get the internship you hoped for, ask how you can improve for next year. Wherever you're spending your summer — make the most of it.
Akayla will be a junior at Ohio State in the fall.
---