July 18, 2019
Internship Spotlight: Lippe Taylor
Image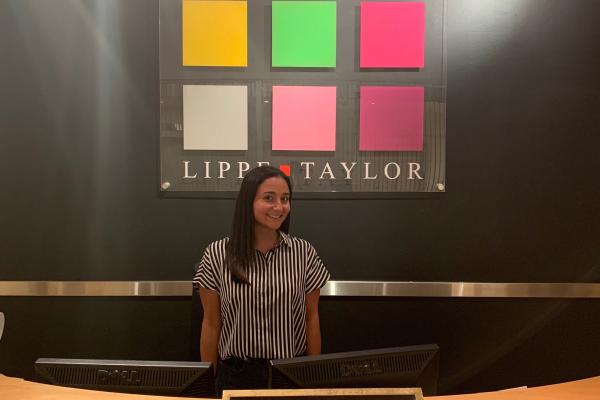 Description
Internship Spotlight
Naomi Posner
Beauty Public Relations Intern at Lippe Taylor
Changing Things Up
The best piece of advice regarding internships that I've received is that there is no such thing as bad experience. Even if your internship doesn't turn out to be the career path you wish to pursue, the benefit is that you're now aware of this earlier on. Your narrowed-down job search will ultimately help you attain your dream job faster. Keeping this ideology in mind, I decided I wanted to test the waters and get some new experience on my resume.
Coming in with an in-house marketing background from two past internship experiences, I was anxious to change things up and begin a new path interning at Lippe Taylor, a public relations agency in New York City. But, as a strategic communication major, I thought it would be best to diversify my resume before graduating from college.
What I Do
If you're working in public relations, you'll never get bored – that's for sure. I often struggle to formulate a response when people ask me what my typical day-to-day consists of as a public relations intern working on the beauty team at Lippe Taylor.
My concise answer is that I assist in media outreach and pitching, planning and coordination of events, creative and strategy development, and media monitoring for all my clients. My honest answer is that there is truly no typical day-to-day in public relations. One minute, I'm calmly monitoring and tracking media coverage for my clients. The next minute, there could be a last-minute crisis for an event that's happening today, and I'm expected to fix it immediately. 
Despite the occasional stress, I love the fast-paced, exciting environment of working at a public relations agency – especially in New York City. 
I work on four beauty accounts: Cetaphil, Differin, Bio-Oil and Revision Skincare. The great thing about this is that I get to work with multiple clients on multiple projects every day, which keeps things interesting. I jump from one brainstorm meeting or client call to the next, learning more about the ins-and-outs of each client every day. 
I know at Lippe Taylor my voice is heard. I am constantly engaged in meetings, and my colleagues are always open to hearing my ideas. Some of my favorite projects I've worked on involve influencer marketing, compiling and presenting competitor research, and event planning for my four clients. 
During my application process with Lippe Taylor, what caught my attention the most was their intern project. The agency separates all 14 summer interns into two teams, and each works on an integrated marketing communications plan for a client the agency chooses. At the end of the summer, both teams present their projects to the entire agency. 
This stood out to me because it shows how much Lippe Taylor truly wants their interns to learn. This project is a valuable experience and as "real-life" as it gets. It not only allows us to learn how to work as a team but also to communicate our individual thoughts and then integrate that into one cohesive communications plan.
A Learning Experience
Public relations involves a lot of teamwork, and I've learned that working as a team can be hard. My internship has tested my criteria in working individually and collaboratively while keeping things in order. This field involves a lot of back and forth communication with clients, your team and multiple outside sources. It takes a lot of patience and organization, and I am quickly learning how important it is to be proficient in these qualities because your client and your internal team have high expectations for you. 
Working in this fast-paced environment with expectations to meet tight deadlines has allowed me to work on my productivity and time management skills. Sometimes I find myself rushing to meet deadlines because there is so much work to do at an agency. But with time I've learned that quality always tops timeliness. 
Of course, you should always strive to have quality work completed before its deadline. However, if it comes down to it, I've learned you are much better off handing in a nearly perfect assignment a little late than handing in an assignment filled with errors because you were rushing to get it done. This is the biggest challenge I am learning to overcome throughout my internship, and I aim to keep this in mind moving forward.
As an intern, you're not expected to do all of your work perfectly the first few times. Making mistakes is part of the learning experience, and with some trial and error, I'm confident I'll one day become an expert in my field.
Naomi will be a senior at Ohio State in the fall.
BONUS: Advice from Naomi: How I Got My Internship

Rewind to August 2018:
I was finishing up my first-ever internship as a marketing intern at a company called Nature's Plus. After work I went to buy new lenses for my glasses and ended up chatting with the optician. When I told him that I was working in marketing, he started telling me that his daughter works at a public relations agency. Sparking my interest, I wrote down the name of the company in my iPhone notes and carried on with my day.
Fast forward to February 2019: 
I'm frantically applying for summer internships with my fingers crossed that a submission through LinkedIn might actually work. Suddenly, a lightbulb went off. I quickly searched my notes on my phone to find the company name that my optician briefly mentioned to me months ago. When I found a note from August 2018 saved with just the words "Lippe Taylor" on it, I searched up their website, found a contact email and applied. 
Fast forward to March 2019:
I was ecstatic to see a message in my inbox from a recruiter at Lippe Taylor inviting me in for an interview! Remembering that I had a connection, I knew this was something I had to take advantage of. I called my optician to connect me with his daughter, still a current employee, and he was happy to share her phone number with me. I later scheduled a call with her and had the opportunity to chat about the company's culture, the type of work she does and some advice on how to ace my interview.
Long story short…
On March 28th, I accepted my offer from Lippe Taylor. 
What I am stressing from my unique application experience is that you really never know when you're networking. Having conversations with as many people as possible could get you a long way. There are far more people in your network than you think, and those people have even more people in their network who they could connect you with. Utilize everyone and never feel intimidated to ask someone to send you a contact. More times than not, people are happy to help.
---