July 28, 2019
Internship Spotlight: ESPN
Image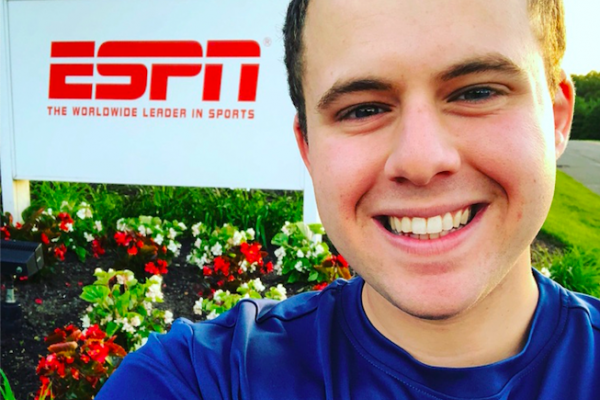 Description
Internship Spotlight
Sam Block
Production Intern at ESPN
Career Goals
My internship at ESPN this summer has been life changing. I arrived five weeks ago not knowing exactly what to expect and now five weeks in, I am amazed at my experience thus far. This journey has helped me realize that I have a very good idea of what I strive for in my career. I hope to be at ESPN, producing sports content for the whole world to see, for the next 50+ years. 
The people here already feel like family. My co-interns, peers at work, mentors, and bosses are all fabulous individuals with unique abilities and extraordinary traits. We have all heard that if you love the work you do, you will never work a day in your life, and that has absolutely been the case thus far in my internship experience. I have been able to produce highlights for SportsCenter, cut VOs for NBA Free Agency, log soundbites from the NBA Draft and so much more. I have learned so much in such a short period of time, due to my top-notch trainers and the talented, patient, and helpful people around me.
Dreams to Reality
From day one, I was able to immediately feel the ESPN lifestyle. I was given a tour of the Bristol, Connecticut, campus -- it is massive, beautiful, and fascinating. Being on the sets of NFL Live and SportsCenter felt like a dream come true. I have been watching ESPN ever since I was a little kid, and now I am here. I hope to stay here forever.
I have grown in many ways since arriving. At first, I was excited to just be here. I had accomplished my goal of earning an ESPN internship, and I knew hard work was on the way. Now, I realize it is the place for me. I deserve to be here and will work as hard as I possibly can to earn my place here full-time. I am comfortable working on important projects, love the intense deadlines and cherish the ability to work in sports each and every night.
Lessons
The most important thing in any life experience is to learn, learn, learn. I realize that I am far from perfect, and nobody is ever going to convince me otherwise. However, growth from day one to day two, growth from week one to week two, and eventually growth from year one to year two… that is crucial and essential. I have learned that production is what I love. It is evident that this field is great for people who love hard work, challenging experiences, the excitement of sports and tight deadlines. 
Asking questions is something all of us should do more of in our daily lives. Nobody is above asking questions, and at ESPN, there are countless individuals who are helpful, willing to answer questions, and willing to meet with you at any time to help you understand concepts on a deeper level. Never be afraid to reach out, because kindhearted human beings will never hesitate to lend a helping hand. This experience is a once in a lifetime opportunity, and I am so grateful to be in this position.
Sam will be a senior at Ohio State in the fall.
---